Prince Charles has been roundly reprimanded by Russian president Vladimir Putin, who said the future monarch's likening of him to Hitler was "unacceptable" and "wrong".
"It reminds me of a good proverb: 'You are angry. That means you are wrong,'" Putin said when asked about the Prince's remark, made in a private conversation during his visit to Canada.
The Russian President, speaking to news agencies in St Petersburg, said he had a direct message to Charles. "Give my words to Prince Charles. He has been to our country more than once, if he made such a comparison, it is unacceptable and I am sure he understands that as a man of manners."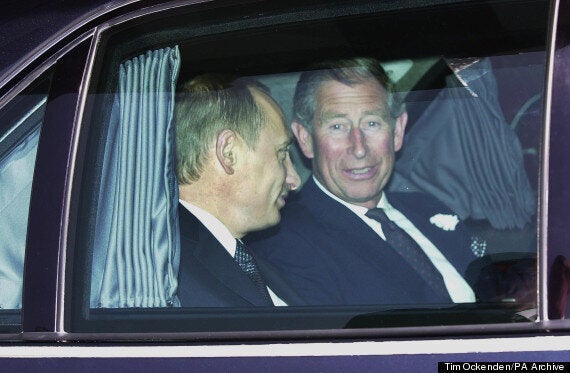 Russian President Vladimir Putin (left) has said he was insulted by the Prince of Wales
"I met him personally, as well as other members of the Royal Family," Putin continued. "This is not what monarchs do.
"But over the past few years we have seen so much, nothing surprises me any longer."
Charles's comments were reportedly made to Canadian museum volunteer Marianne Ferguson, 78, after she told him how her Jewish family fled the Nazi occupation of Danzig at the outset of the Second World War, and appeared to draw a parallel with Russia's annexation of the Ukrainian peninsula of Crimea in March.
The Russian president said he had been emboldened by the condemnations of Western leaders.
"I will be guided not by what they say about me anywhere," he said. "I will only be guided by the interests of the Russian people, and I hope our colleagues in Great Britain will keep that in mind and will always remember that when finding solutions to any issues, we are always guided by international law and its norms."
The President indicated that he did not regard the current crisis as the beginning of a long-lasting rift in UK-Russian relations. "Only if we respect international law will we be able to find solutions to the most difficult issues," he said.
"Should our British partners be guided by their national interests - like I do - and not by other reasons, I am sure this will soon become a thing of the past and we will be able to continue good co-operation like back in the days, and maybe even reach some new heights and can start thinking about what is to be done in the future in order to make our co-operation more efficient."
A spokeswoman for the Prince of Wales declined to comment on Putin's criticism.
The reported remark was seen as particularly offensive to Russians because of the country's pride in its contribution to the defeat of Nazism in the Second World War, which cost an estimated 26 million Russian lives, almost nine million of them in the military.
Although coverage in the Russian press was generally more restrained than in the UK, the newspaper Moskovsky Komsomolets printed a commentary characterising Charles as "a clearly defined eccentric", while pro-Putin media referred to the alleged Hitler sympathies of certain members of the Windsor family in the 1930s as well as Prince Harry's choice of a Nazi uniform as a fancy dress costume.
One St Petersburger, Dmitry Urganskov, told the Press Association: "I think that for such a person as Prince Charles, it is not correct to say about Vladimir Vladimirovich (Putin) such words."
And Anton Zhinkin believed that the disapproval was generally shared among ordinary Russians.
"I think that it's rather a wrong opinion about our president and they don't like what Prince Charles has said about him," he said.
However, some passers-by enjoying the unseasonal sunshine in St Petersburg were unaware of the comment, while others seemed uncertain about the identity of the Prince of Wales.
Asked for his response to the Prince's remark, Maxim Kostyrya looked puzzled and asked: "I'm sorry, Prince Charles?"
When told Charles was the son of the British Queen, Kostyrya recalled the story and said he did not believe the Hitler comparison was right.
Asked if ordinary Russians were angry with the UK as a result of the reports, he agreed: "Most of them, I think."
And he made clear that their distaste was not fuelled by blanket enthusiasm for Putin's stance on Ukraine, saying that he was worried by developments in the former Soviet state, where Russia has annexed the strategically important Crimean peninsula and allegedly given support to separatist rebels in the east and south of the country.
"It's a great pity about all of this," said Kostyrya. "I don't know what I can do, but I don't like it."
Popular in the Community