WARNING GRAPHIC IMAGES BELOW
This is the horrifying moment a 67-year-old Vietnamese woman died after setting herself on fire in downtown Ho Chi Minh City on Friday in protest against China's deployment of an oil rig in waters claimed by Hanoi, according to reports.
The woman self-immolated in front Reunification Palace Before, placing six handwritten slogans with phrases to protest China before killing herself.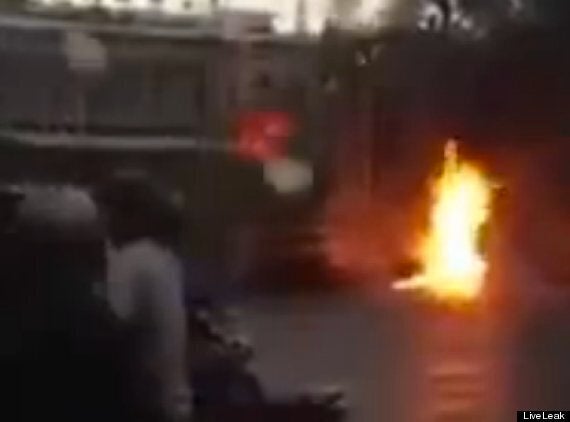 Thanh Nien newspaper quoted the contents of the slogans, including, "Let's unite to smash the plot of invasion of China", "Support to Marine Police Force and fishermen of Vietnam", "China demanded to withdraw from Vietnamese sea waters", "Return sea and islands to Vietnam", "Let's light up the way for patriots", and "The Trưng Sisters stood up to fight enemy in the old days".
China's deployment of the rig on May 1 in the South China Sea triggered fury in Vietnam, which has been feuding with China for years over overlapping claims in the potentially oil and gas-rich seas. Ships Hanoi sent to confront the rigs are now facing off against Chinese vessels protecting it.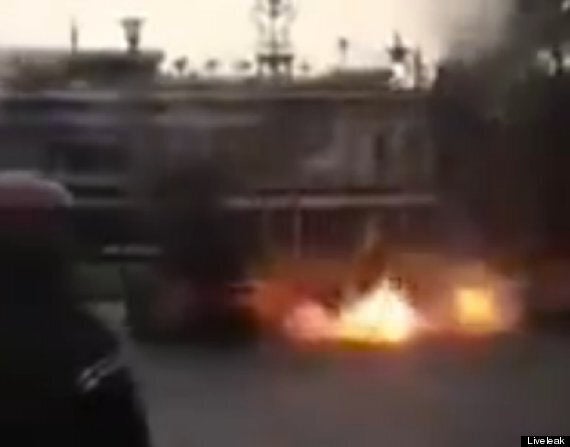 Street protests also occurred, but Vietnam's authoritarian government clamped down on them after they morphed into anti-Chinese riots that left three Chinese national dead and damaged scores of foreign-owned factories.
News and footage of the self-immolation spread quickly on the Internet. Thanh Nien ran a cell phone clip purportedly showing the incident and motor cyclists looking on. The paper said the woman came to the palace by taxi and set herself on fire before guards there could react. By the time they did, her injuries were fatal.
Self-immolations in Vietnam are rare but have been occasionally reported over the years.