Pope Francis has stopped to pray at a barrier Israel has built in Bethlehem and invited Israeli and Palestinian leaders to come to the Vatican to join him to "pray for peace".
The pope is in the middle of a three-day tour of the Middle East and made the unexpected stop at the security barrier, which was erected 10 years ago amid suicide bombings.
He stopped to pray on his way to a mass in Manger Square next to the Church of the Nativity. Pope Francis prayed at the barrier in a visit to Bethlehem
"In this, the birthplace of the Prince of Peace, I wish to invite you, President Mahmoud Abbas, together with President Shimon Peres, to join me in heartfelt prayer to God for the gift of peace," the Pope told the mass.
The spot where he stopped to pray was next to graffiti saying "Bethlehem looks like Warsaw ghetto" - a reference comparing the plight of Palestinians in the area to that of Jews in the Polish city under the Nazis.
"The Israelis say the wall and other parts of the separation barrier are vital for the security of their people.
"But for Palestinians the wall is tangible symbol of what they say is Israel's intention to grab as much land as possible."
Pope Francis called for negotiated settlement in the Israeli-Palestinian conflict to bring about a two-state solution to end the "tragic consequences" of the "protracted conflict".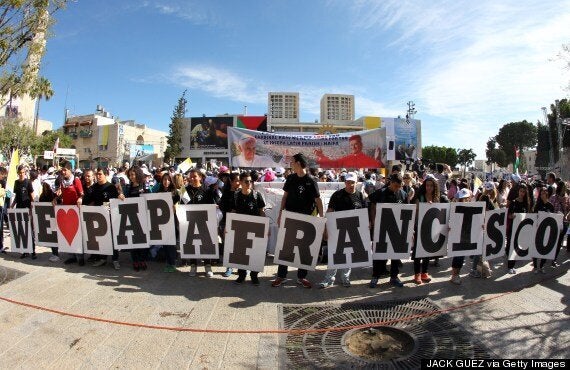 Crowds gathered to see the head of the Catholic Church visit the town
"The time has come to put an end to this situation which has become increasingly unacceptable," he told Palestinian leader Mahmoud Abbas, the BBC reported.