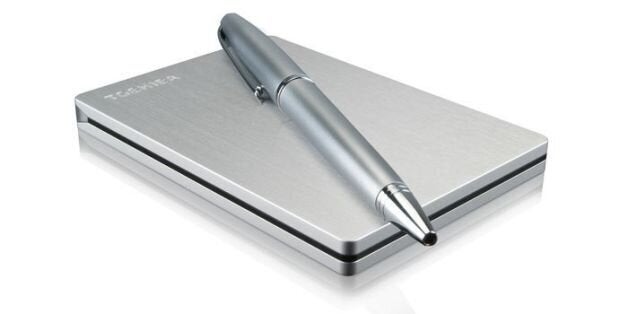 Toshiba is partnering with The Huffington Post to offer students the chance to win a 1TB harddrive and a 256GB SSD to boost all your laptop and PC memory and keep all valuable data, including your dissertation safe.
As more and more aspects of our personal lives become reliant upon digital technology, it is important we are confident that our valuable files are secure and accessible at all times. Research shows that only 25 per cent of users frequently backup their files, yet 85 per cent of those same respondents say they are very concerned about losing important digital data.
In order to help you protect and prevent loss of your assignments and dissertations we've got the perfect gadget for you! The Toshiba STOR.E Slim portable external hard drive (HDD) has a 1TB capacity and additional 10GB of free cloud storage, which will give users secure access to their valuable digital content whilst on the move, whether it be in the uni library or round a friends watching films from your HDD.
In addition to the STOR.E Slim HDD, the lucky winner will also win a Toshiba SSD Q Series Pro which boosts PC and laptop performance and offers increased durability and resistance to protect your stored data. Available in 256GB the Q Series Pro is suitable for those looking to experience a faster boot up and operation, without draining power. With a SATA Gen3 (6 Gbit/s) interface and read/write speeds of up to 554MB/s (read) and 512MB/s (write), the SSD is suitable for users who demand an improved performance, such as gaming on PCs and laptops.
With both of these gadgets there's no need to worry about slow performance of your laptop or losing your valuable work. Get data savvy and back up now.