Male models occupy a funny territory: often angular, slim and pretty boyish, they aren't the first choice for women to perve on and while men may admire the clothes they are wearing, they are unlikely to swap pizza for salad leaves to look like them.
So male model Billy Huxley poses something of an alternative. First, check out the beard. Second, the tats are deeply unusual considering most models are meant to be somewhat of a blank canvas.
Thirdly, Billy has personality. Lots of East London, beardy, quirky personality which is evident if you stalk peruse his pictures on Instagram.
It's to be expected from a former roofer who was once so poor he had to sell his car because he "didn't have a carrot" - his unusual introduction into the world of modelling is largely what makes him so interesting.
So how did he go from scrambling on the tops of people's houses to joining Models1, one of the UK's most prestigious modelling agencies, and posing with Cara Delevigne?
HuffPost UK Lifestyle caught up with him for a chat...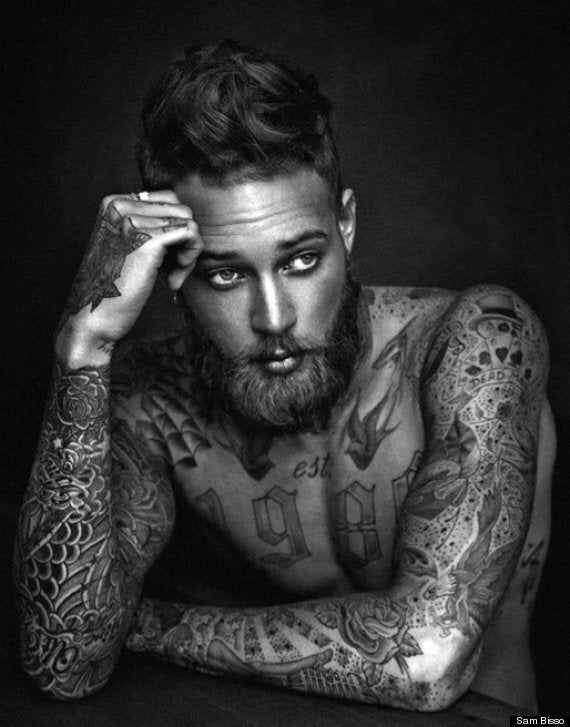 Imagine we've been living under a rock for the last year and don't know the Billy Huxley story. How did you go from being a roofer to a model?
My cousin Hannah Lisa is a make-up artist and could put forward some models for a show she was involved in, she asked me if I wanted in, I agreed and that's where it all started really.
From there I was freelance modelling through the summer and then got spotted via social media in the winter and that's where it all began.
Do you still keep in touch with your old mates - and what do your building chums have to say about the modelling?
Yeah I do, my old pals have always been there for me and I'll always be there for them regardless what happens to me in my career. They knew how much I hated roofing and couldn't be happier for me how things are working out. Let's just hope it carries on.
How did your first ever modelling gig go - was it nerve-wracking?
To be honest (without sounding like a twat) I rarely get nervous. It came quite natural to me, my first gig was for a company called Choice, doing their e-commerce stuff, everyone was really cool and chilled so that helps a lot. The photographer was great and talked me through everything. I picked it up pretty easy and your confidence just grows with each shoot really.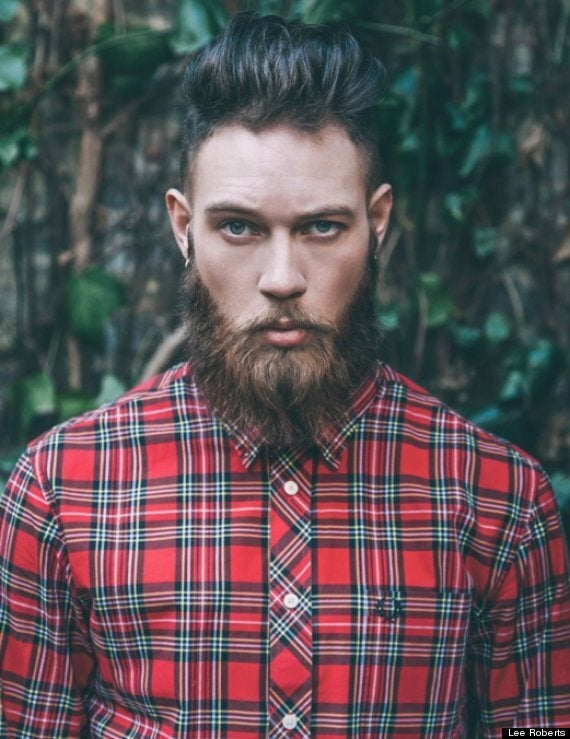 Have you ever come across a piece of food lodged in your beard hours after eating said item?
I'm a big fan of peanut butter and honey on toast, so you can imagine that can get quite messy!
I must have not had a clean up after breakfast then went straight to work, when I got into the studio I see all this honey congealed in my beard.. It wasn't pretty! I wondered why I was getting funny looks on the tube.
The tats - talk us through them.
My first one was Huxley on my back because I was 15 years old and wasn't very imaginative back then. Tattoos: it's a bit like a scrap book, you just keep putting in things you like. I'm really relaxed about it all. I've never seen tattoos as a big deal, If an idea comes into my head that I like, then I'll get it tattooed! It's as simple as that really.
I have a few DIY tattoos, I wrote addict on my leg with a needle and a pot of ink.. I'm actually quite proud of that one!
Do models date models and that's our roundabout way of asking if you date models?
I've only dated one model. I'm not a shallow bastard. Only date models? No. Looks count for something for sure but personality goes a long way too. A lot of the female models I've met don't talk much.. I prefer dating girls that like to talk LOL.
Tell us something about the male modelling world that we don't know, or may make assumptions
Well from the dudes I've met, most are just like normal stand up guys, but with ridiculous six packs! We like to work hard and party hard...very hard. That's all I'm saying.
What advice would you give to your 15-year-old self?
Try and get some half decent grades and go to Uni.The parties are fucking awesome.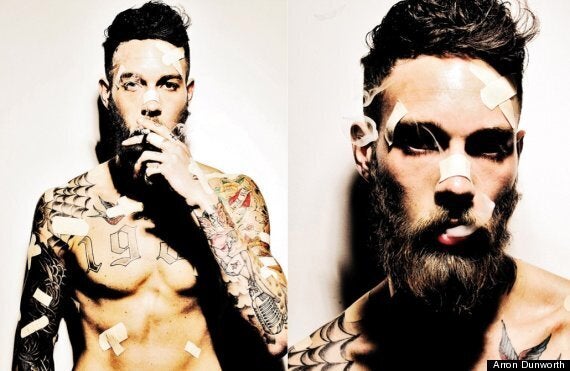 How do you keep in shape?
Yeah I try and go gym Monday to Friday. I always mix it up, cardio, heavy lifting, light lifting. I have to stay a certain size to get in to the samples sizes so I can't go too mad. If I know I've got a topless shoot coming up I'll be right strict and won't booze until after the shoot. I become a little hermit.
As a model do you watch what you eat? What's an average food diary like?
Yeah definitely. I eat healthy 90% of the time, veg, salads, white meat, fish. I have a philosophy, the healthier I eat, the more alcohol I can get away with. Works an absolute treat.