Jurors watched startling footage of Tottenham supporters clambering over barriers at Hillsborough after a crush at the Leppings Lane terrace during the 1981 FA Cup semi-final - the same stand where 96 Liverpool fans lost their lives in 1989.
Thirty-eight fans were reportedly injured in a "crushing incident" at Hillsborough eight years before the tragedy, an inquest into their deaths has heard.
Tottenham fans spilled on to the perimeter track at the Leppings Lane end of the ground and others climbed fences shortly after the start of the 1981 FA Cup semi-final against Wolverhampton Wanderers.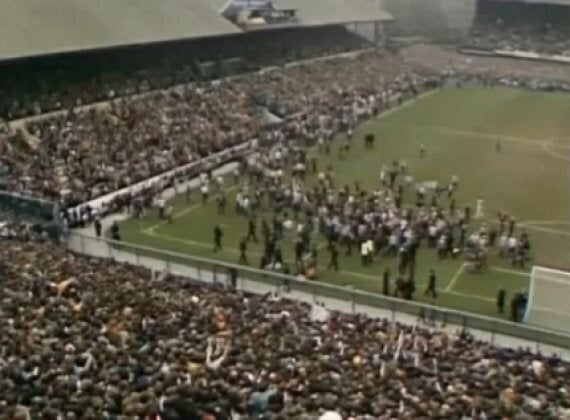 Supporters pour onto the pitch during the 1981 FA Cup semi-final
The inquest in Warrington heard the crush, at it most significant point, arose within a few minutes of the match kicking off.
Four minutes into the match and Spurs striker Steve Archibald scored in front of the Wolves supporters which caused the crowd in the Spurs end to surge, the hearing was told.
Two minutes later the footage shows a small number of Spurs fans sitting on the perimeter track in front of the Leppings Lane end - scene of the 1989 fatal crush - and some are climbing the perimeter fence, assisted by police officers.
Nine minutes on the clock and spectators were now sitting behind the goal, with numbers quickly increasing.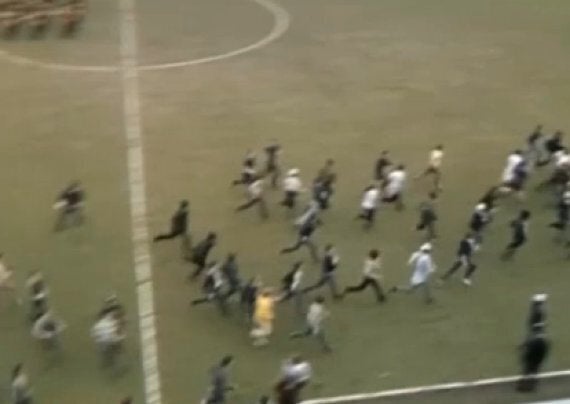 Supporters rush onto the pitch shortly after the crush began
Shortly after a St John Ambulance worker is seen carrying a stretcher to assist a spectator.
At half-time, fans run across the pitch towards the opposite end containing the Wolves supporters before they are eventually corralled by police to sit in front of the north stand.
Sheffield Wednesday said it received reports that 38 people sustained injuries, the inquest heard.
A total of 30 fans were treated by St John Ambulance for minor injuries.
Others were taken to hospital for treatment with two people suffering broken arms and one breaking a leg.
Related