Mourners have turned out to celebrate the life of an inspirational teenage cancer victim on the day a fighting fund he launched topped £4 million. Hundreds gathered outside Lichfield Cathedral today to witness the sombre arrival of a horse-drawn carriage bearing Stephen Sutton, whose bravery in the face of terminal cancer touched people across the world.
The 19-year-old is lying in a place of honour inside the cathedral until tomorrow, after the family requested the public be allowed to celebrate the life of a young man who had urged people to live their lives to the fullest. Stephen's arrival at the cathedral, where mourners had been asked not to wear black, coincided with news earlier in the day that more than £4 million in donations had been pledged in his name to the Teenage Cancer Trust.
As his hearse arrived, drawn by four white horses, resplendent in yellow head dresses, there was spontaneous applause from the crowd. A bright yellow wreath bearing the icon of a smiley face lay beside the white coffin. The teenager, from Burntwood in Staffordshire, had originally launched his fundraising appeal with a target of £10,000.
But a simple determination to live his life, while under the constant shadow of terminal bowel cancer - creating a bucket list and spreading awareness to other young people - saw his campaign gain rapid momentum. Before his death, Stephen, who was diagnosed aged just 15, said: "I don't see the point in measuring life in terms of time any more. I'd rather measure life in terms of making a difference."
It was that attitude which earned the highest praise and admiration, including from celebrities including Russell Brand, Simon Cowell, Ricky Gervais and Jason Manford. Prime Minister David Cameron went to meet Stephen while in hospital, and following his death on May 14, said: "I'm deeply saddened to hear that Stephen Sutton has died. His spirit, bravery and fund-raising for cancer research were all an inspiration."
Following the two-day vigil ending tomorrow afternoon, Stephen's family are to hold a private funeral where they will say their final goodbyes. However, at 11am tomorrow, Stephen's mother Jane has asked people to join in a Thumbs Up For Stephen event, and "do something to make others happy".
The Teenage Cancer Trust's chief executive Siobhan Dunn said earlier today Stephen's memory would "never be forgotten" because it would live on through the work of the charity. She added: "I think it's really important there's a public celebration of Stephen's life and I think that's exactly what he would have wanted.
"He was looking for us to put the fun into his funeral so hopefully we're going to do that. Lichfield Cathedral is such a beautiful space and it's an opportunity for people especially from the local community who have been so incredibly supportive towards Stephen and all his family to come along and pay their respects and to celebrate his life."
Paying tribute, the Dean of Lichfield, the Very Reverend Adrian Dorber, told the gathered mourners Stephen "in his all too brief life" had taught "how to make the unacceptable, beautiful He chose to share his exuberance with us, not his pain," he added.
The Dean said: "Stephen showed the sheer joy of existence in everything he touched, from being an A-star student at school with hopes of a career in medicine, to playing football, running cross country or playing the drums with his band Nothing Personal. He's been an inspiration and we all want to share in the sense of grateful, hopeful possibility."
Of Stephen, he said: "He was one of those very rare people who've helped us live our lives with generosity." Turning to the purpose of the vigil, he added: "Rituals and gestures don't change the world by themselves. But they can change us, and we can change the world."
Julia Hayburn, assistant headteacher at Stephen's former school, Chase Terrace Technology College, told of how, when he was first diagnosed, the "determined" teenager's immediate reaction was to call a meeting with teachers because he refused to take doctors' advice to "forget his Year 11 study". Instead he would go on to complete his GCSEs and AS-levels, she added.
"Words like awesome, awe-inspiring and inspirational became synonymous with Stephen - but they only touched the surface of what he has become on a national and international scale," said Mrs Hayburn.
Following the end of the formal portion of the service, the Dean invited the congregation to do five things in turn, including signing the books of condolence and giving the "thumbs-up" sign that has become synonymous with the teenager's campaign.
Among them were Stephen's mother Jane Sutton and his brother Chris who shared a smile, through tears, as they raised their digits to the white coffin on top of the stone dais, surrounded by yellow and white flowers. As a seemingly endless stream of mourners, young and old, some smiling, many wiping away tears, then took their place to honour Stephen, a 38-minute record of the brave campaigner's favourite music played out.
Among the tracks was You've Got A Friend In Me, by Randy Newman - made famous as the soundtrack to Disney's Toy Story. About 1,200 mourners attended the service or stood for the vigil in the first hour, according to the cathedral's authorities. Among those attending and giving their thumbs-up were Celia Houghton and her 14-year-old daughter Freya, who had attended school with Stephen.
The teenager remembered a powerful speech the young man gave to the school's assembly a year ago, saying "he was one person who stood out". "The one thing that spoke to me was when he said 'don't measure time by the clock, measure it by what you do'," added Freya. "When he died, people cried at school.
"I remember walking along the corridor and people were using Post-It notes to stick goodbye messages on the wall." Her mother said they had run to catch the horse-drawn hearse as it had left Stephen's home earlier, wanting to be there to mark the moment.
Mrs Houghton, wearing a yellow ribbon and wristband, said that although she never met Stephen his death had a profound impact. "I bawled my eyes out when I heard," she said. "I never usually give to charity but I did for him. I just wish he had been my son - I wish I was half the person he was."
Mrs Houghton, who had also tied a yellow ribbon around her cat's collar, called the service a "fantastic" event, saying it had struck the right balance between celebration and grief.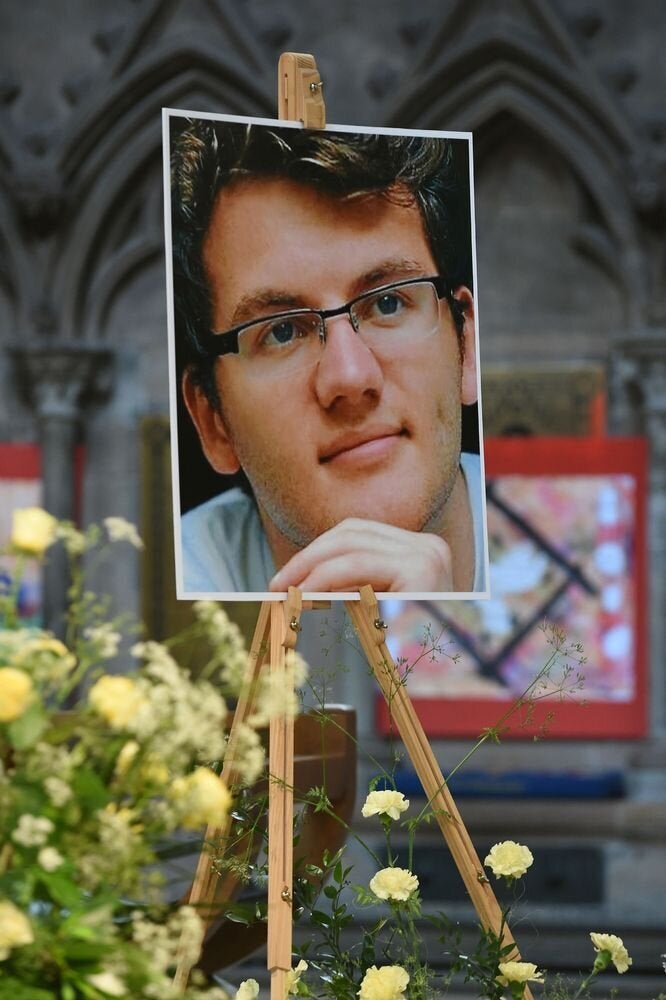 Stephen Sutton Vigil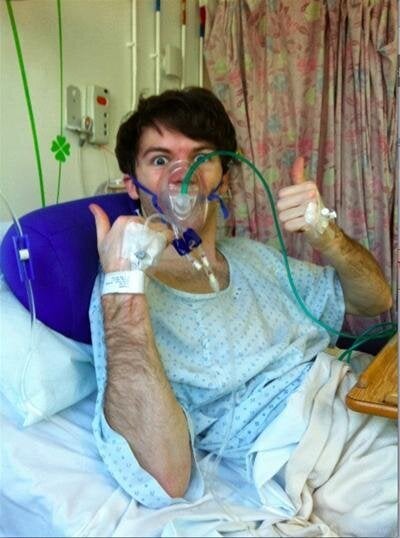 Stephen Sutton #StephensStory