As inventor Tim Jenison puts it, it was "a hobby that got out of control, following an epiphany in the bathtub".
His mission - to uncover the tools and techniques behind the lifelike works of art created by Dutch master Johannes Vermeer, 150 years before the invention of photography.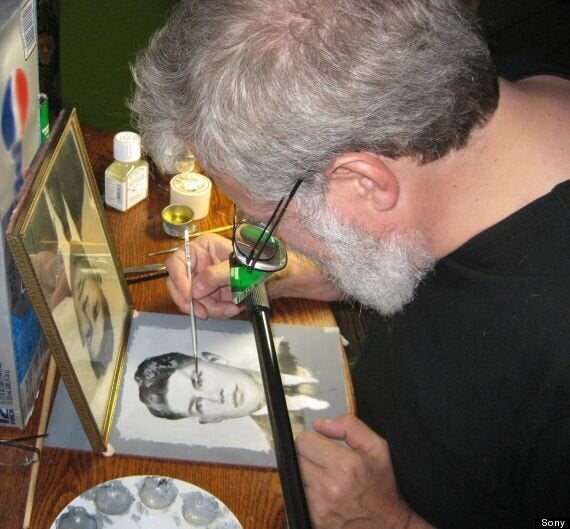 Tim Jenison had hardly painted before he decided to emulate Dutch master Johannes Vermeer
What followed - a tireless quest lasting over a decade and crossing the globe, culminating in Tim's attempt to recreate Vermeer's masterpiece The Music Lesson.
Without Tim's friend, Penn Jillette (of Penn and Teller fame), the documentary that followed him wouldn't have happened. But filming raised the stakes. As Tim says now, "Penn mentioned to me when we were halfway through, that if we didn't pull this off we really didn't have a film. So no pressure, there."
Without spoiling the outcome for first-time viewers, the film, as well as being a magical art mystery, also explores the battleground between art purists, who believe art stops being true once gadgetry is involved, and the more practical types including David Hockney, who says in the film that finding out what Vermeer did would only add to his genius.
It's clear where inventor Tim, who made his own fortune in computing sits on this. "As a technologist, I admire that in our race. Where our art genius can be found today is on the movie screen, after thousands of hours spent behind the scenes, and there's a lot of technology in all of that."
After all those thousands of hours spent trying to emulate Vermeer, I wonder which would be more satisfying for Tim, an acknowledged perfectionist who we see cut a lathe in two during the film when it looks like one of the table legs might be the wrong length in the finished picture - to find out if he's right about Vermeer's techniques, or to have his own picture finally hanging on the wall?
"It was an electrical feeling in the bathtub," says Tim now. "But the feeling of putting that last blob of paint was a remarkable sensation of delayed gratification.
What's next for Tim and his tolerant family? "I'm a man of many hobbies," he chuckles, "so I guess I'll just have to see which one of them gets out of control the next time."
'Tim's Vermeer' is available now on DVD and digital download. Watch the trailer below...