Carl Froch has retained his IBF and WBA World Super Middleweight title at Wembley Stadium following a sensational knockout of George Groves in the eighth round.
Froch infamously won their first meeting in Manchester last November, recovering from a first-round knockdown and terrible start to stop Groves controversially in the ninth round.
He once again retained his IBF and WBA super-middleweight titles and answered any remaining questions in the record-breaking fight in front of 80,000 baying fans.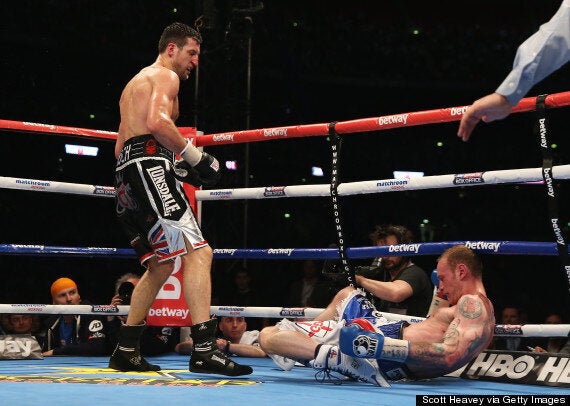 Froch stands over Groves after delivering the knockout blow in the eighth round
The nature of the first fight's ending only fuelled animosity between the pair and served to hype the rematch into a sell-out at the national stadium.
A cagey opening few seconds saw the 26-year-old Groves land first with the jab as Froch appeared mindful of his opening salvo last time. Froch caught Groves with a glancing left hook but the respect for each other's power was evident.
Groves landed a right in the second which was by far the best action at that point, and a left hook as Froch moved in moments later.
Froch landed two left hooks as he pounced on the pensive Groves but a counter right hand from Groves was a good finish to a round where Froch had improved.
A one-two by Groves probably earned him the fourth but the rounds were hard to score. A similar combination in the fifth brought more success only for Froch to trap him in the corner briefly as he wailed away.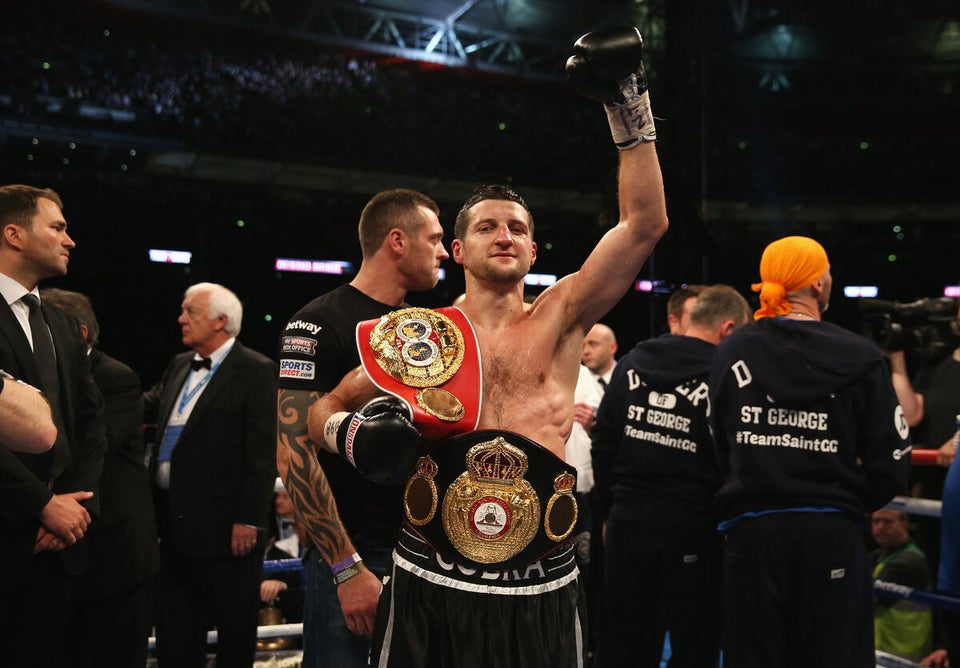 Froch-Groves rematch
Groves was too quick with the jab, footwork and defensive reflexes while his right hand was a potent weapon. But there remained a sense he could be got at by Froch at times as the veteran edged the sixth and a small cut appeared under Groves' left eye.
The 'Saint' landed a powerful lead left in the seventh which was easily the best shot of the fight at that stage. Another and two hooking rights as Froch attacked were also impressive but he took one himself in the skirmish.
Some casual fans inside Wembley grumbled at the technical nature of the bout at times.
But it erupted in the eighth as a right hand from nowhere obliterated the challenger. Letting his guard slip for a split second, Froch unleashed the shot which saw Groves crumple to the canvas unconscious.
The youngster was still wobbling a full minute later as he faces the prospect of going away and rebuilding. But ultimately, the score was settled and Froch's legacy enhanced.