This bride really, really wanted her one-month-old child involved in her big day.
So much so, she sewed baby Aubrey to the train of her Vera Wang wedding dress and dragged her down the aisle.
Shona Carter-Brooks triumphantly tied the knot with Johnathon Brooks in Ripley, Tennessee in May.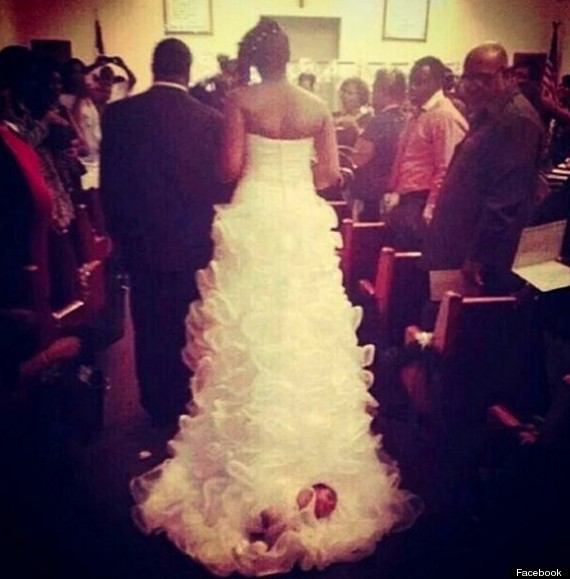 Here comes the bride. And the baby: Shona Carter-Brooks marches down the aisle with baby Aubrey sewn to her dress
Some guests at the wedding were apparently left enchanted by the sight.
Val Bradford wrote on Facebook: "Congrats on the beautiful wedding sweetie and with bby Aubrey on ur train that was something new that I haven't seen and was too cute."
Brittany Smitty Smith added: "I've never witnessed anything like tht before! Nd most importantly the bby was not harmed in the process."
But it would appear others – albeit non-guests - were less enthused.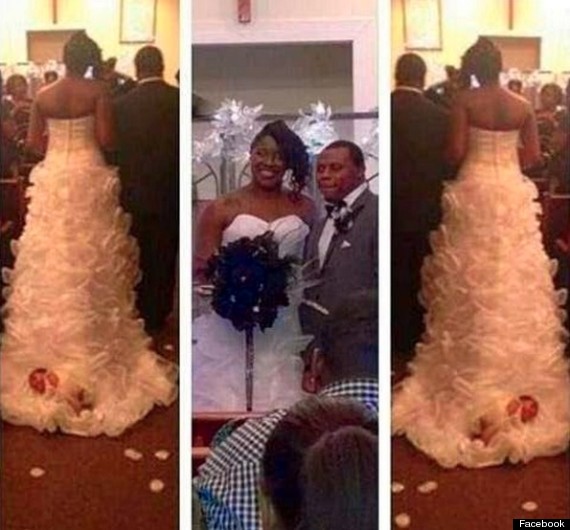 Carter-Brooks has insisted her daughter was unharmed during the stunt
Writing on Clutch magazine, one reader apparently fearing carpet burns asked why the baby was not simply carried during the ceremony, while another wrote: "WHY? I am sorry but if I would have saw that I would have gotten out of my seat and taken that baby. That is truly dumb."
Carter-Brooks has responded to the nay-sayers, writing on her Facebook page: "Media Media, I see how it works regardless the situation or purpose people gone having something negative to say!
"The answer is we do what we want when we want long as Jesus on our side everything worked out fine and gone continue to be fine.
"Our 1 month old was awake and well secured on my train. Most important while y'all got ya feelings in us we had our hearts in Christ which covers all!"
H/t MailOnline.