A man has died and 13 people were injured when a car collided with a night bus in crash that sounded like an "explosion" to witnesses.
The man, believed to be in his 20s, was one of four men in the car when it was involved in an accident with a bus in Clapton, east London, at around 2.20am on Wednesday.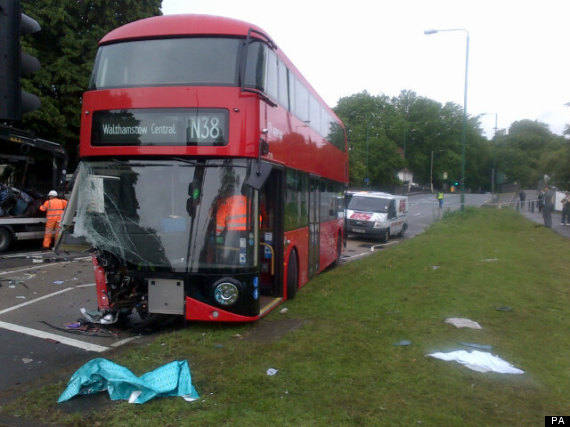 The crash scene
The three others in the car were also injured, one critically, while 10 people on the N38 bus were treated as "walking wounded", Scotland Yard said, and some were taken to hospital.
Rose Friggi, 32, a mother-of-two from nearby Paradise Park, said the crash sounded "like an explosion".
"I was up in the night because my baby was sick. I heard what sounded like an explosion. My husband went to work at about 3am and he said there were police cars and a helicopter at the scene," she told The Evening Standard.
The bus was travelling towards Whipps Cross when the accident happened in Lea Bridge Road, at the junction with Essex Wharf.
Paramedics treated bus passengers before a number of the injured were taken to hospital by another bus. It is believed they all received minor injuries.
A police spokesman said: "One man who was in the car was pronounced dead at the scene of the collision.
"Another man who was in the car was taken to an east London hospital where his condition is described as critical.
"Two men who were in the back of the car suffered injuries. They are in a serious but stable condition after and are being treated at an east London hospital.
"The four men in the car are believed to be in their early to mid-20s."
Said Mohamed, who works a security guard nearby, told the Standard his colleague heard the crash, adding: "He said it was so loud.
"He went out to look at what had happened. The whole front of the car was almost underneath the bus and it was panic and chaos.
"There were injured people in the road and everyone was calling the emergency services. He said seeing it all was very difficult.
Police said they believed the car that crashed into the bus was "travelling with or closely behind another vehicle" and appealed for the second vehicle's driver to get in touch as a witness.
The Evening Standard reported police were investigating whether the two cars were racing at high speed but a Met spokesperson told The Huffington Post UK there was "no evidence" of this at the moment.