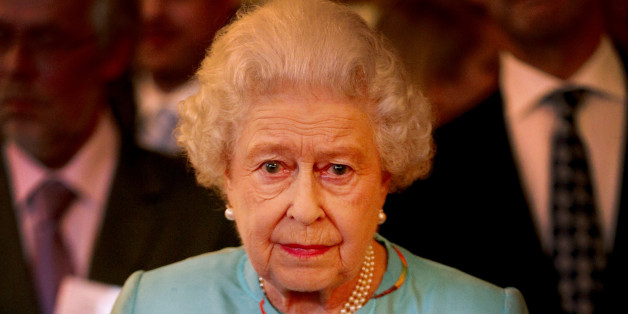 WPA Pool via Getty Images
Here are the five things you need to know on Wednesday 4 June 2014...
1) QUEEN DEFENDS ZOMBIES
From the Telegraph's editorial:
"Today the Queen will make the short journey along the Mall for the State Opening of Parliament, the last annual session before the general election next May. It is not entirely certain that the Coalition will last until then; but, then again, few commentators predicted that it would survive this long when it was formed in 2010, the first in peacetime for 80 years. When historians come to look back on this period in politics, they may take Samuel Johnson's view of a dog walking on its hind legs: it is not done well, but you are surprised to find it done at all."
The paper reports on its front page:
"David Cameron and Nick Clegg will today use the Coalition's last Queen's Speech to present their "ground–breaking" pensions reform as an answer to 'sceptics' who claim the Government has run out of steam. New laws delivering the 'biggest transformation in our pensions system since its inception' will be the centrepiece of the Coalition's last legislative programme. A Bill allowing voters to sack MPs who break the law will also be published, after years of Coalition disagreements about so–called 'recall' powers. Anticipating Labour allegations of a 'zombie' government lacking energy or ideas, the Prime Minister and his deputy will insist today's package shows that, four years after taking office, they are 'still taking bold steps' and delivering 'revolution'."
Nonetheless, there are only 11 new bills in this Queen's Speech; the fewest number since the year before the previous general election. The Guardian reports that "Labour is likely to back most of the pension reforms , but claims the speech overall represents more of the same, and was surprised by its lack of any reference to plain packaging for cigarettes, or to immigration and the NHS."
2) GOVE VS MAY
From the Times splash:
"Michael Gove believes there has been a plot by extremist Muslims to take over schools in Birmingham and is preparing to drive them out, The Times can reveal. The education secretary is convinced that a small group of extremists has infiltrated schools in the city with tactics similar to those used by the Militant Tendency in the Labour Party in the 1980s, a senior source has said. Mr Gove blames their influence on a reluctance within Whitehall, especially in the Home Office, to confront extremism unless it develops into terrorism and believes that a robust response is needed to 'drain the swamp'. But in an extraordinary development allies of Theresa May, the home secretary, hit back last night as it emerged that she had accused Mr Gove of failing to act to curb extremism in schools. A Home Office source said: 'Why is the DfE wanting to blame other people for information they had in 2010? Lord knows what more they have overlooked on the subject of the protection of kids in state schools? It scares me.'"
The Times quotes from a letter from the home secretary to the education secretary: "Is it true that the Department for Education was warned in 2010? If so, why did nobody act?"
The Guardian, however, takes a different tack on the whole story on its front page:
"An ideology 'at odds with traditional British values' has taken hold at the schools inspectorate Ofsted, a group of leading educationalists and Muslim leaders have warned. Led by Sir Tim Brighouse, a former chief education officer in Birmingham, the 20 experts – unhappy at the way Ofsted has conducted inspections into schools allegedly infiltrated by conservative Muslims – say in a letter to the Guardian that it is at risk of compromising political independence by producing 'tarnished reports'. Their intervention comes days before Ofsted publishes results of an inspection of 21 schools ordered by education secretary, Michael Gove, after claims conservative Muslims were trying to infiltrate the governing bodies of Birmingham schools in a plot dubbed Operation Trojan Horse."
3) CLASS WARFARE, UKIP-STYLE
It's the Newark by-election tomorrow and Ukip, which is now trailing in constituency polls, is stepping up its attack on the Tory candidate - from the Telegraph:
"The Newark by-election campaign has been mired in class warfare over the leading candidates' wealth as the UK Independence Party's Roger Helmer attacked his Tory opponent over his £5 million property portfolio. The outspoken attack by Mr Helmer led Chris Grayling, the Tory Cabinet minister, to defend the party's candidate Robert Jenrick, insisting that the party's candidates should not be ashamed of being rich."
The paper adds:
"Mr Jenrick has been dogged by claims ahead of Thursday's by-election that he exaggerated claims about his business past to make him more attractive to voters. He has said on the internet that he was an entrepreneur, despite never running his own company. His campaign literature said he was a managing director, when in fact he is one of nine such employees at Christie's, the auction house."
Oops.
BECAUSE YOU'VE READ THIS FAR...
Watch this video of 'Last Week Tonight' host John Oliver neatly summing up just how appalling Aussie PM Tony Abbott is.
4) PLEBGATE, PART 346
More than 18 months on, the plot thickens - from the Guardian:
"Andrew Mitchell was repeatedly denied entry on his bicycle to Downing Street by armed police officers more than a year before the so-called Plebgate incident in September 2012, prompting a formal complaint by No 10 to the Met. A 'restricted' letter from the head of security in the prime minister's office to the Met's diplomatic protection group in June 2011, released by No 10, warned that there was 'no just reason' why Mitchell should have been prevented from entering Downing Street on his bike... The release of the letter by No 10 follows the disclosure in the Sunday Times over the weekend that police officers agreed on the eve of the Plebgate incident to prevent Mitchell from cycling through the main gates."
Were the cops "spoiling for a fight", to use the Guardian's phrase, with the then chief whip?
5) POWELL 'PISTOL-WHIPPED'
From the Telegraph:
"Lady Powell, a socialite and former model who counts among her friends Tony Blair and George W Bush, has described how she was pistol–whipped and threatened with knives and hand guns during an armed robbery at her villa in Italy. The former model, who was a close friend of the late Baroness Thatcher, was still bruised and shaken as she told The Daily Telegraph how a gang of four or five armed men robbed her villa in the countryside outside Rome. The gang, wearing balaclavas and armed with knives, a revolver and automatic pistols, fired at least two bullets above her head in order to force her to open her safe. They stole cash, jewellery and watches thought to be worth several hundred thousand pounds, and removed a Cartier watch from her wrist and the rings from her fingers. 'It was like a nightmare,' said Lady Powell, 71, who is married to Lord Powell of Bayswater. As Charles Powell, he was foreign policy adviser to Lady Thatcher during the Eighties."
PUBLIC OPINION WATCH
From today's Sun/YouGov poll:
Labour 36
Conservatives 32
Ukip 14
Lib Dems 8
That would give Labour a majority of 44.
900 WORDS OR MORE
Mary Riddell, writing in the Telegraph, says: "The Labour Party leader should resist the temptation to shift to the Right to counter Ukip's threat."
Daniel Finkelstein, writing in the Times, says: "Cities make us happy: more power to them."
Nikolaus Blome, writing in the FT, says: "Make your mind up on Europe, Mr Cameron."
Got something you want to share? Please send any stories/tips/quotes/pix/plugs/gossip to Mehdi Hasan (mehdi.hasan@huffingtonpost.com), Ned Simons (ned.simons@huffingtonpost.com) or Asa Bennett (asa.bennett@huffingtonpost.com). You can also follow us on Twitter: @mehdirhasan, @nedsimons, @asabenn and @huffpostukpol