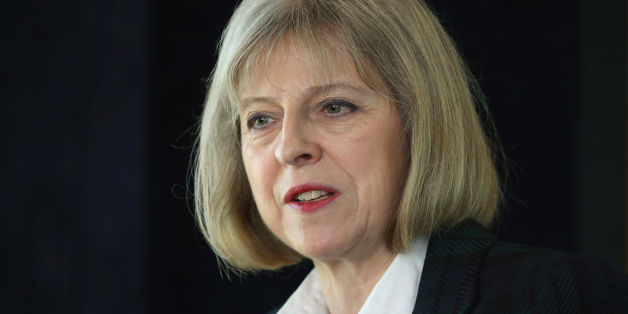 Oli Scarff/PA Wire
A simmering cabinet row between Theresa May and Michael Gove spilled out into the open today, threatening to overshadow the coalition's final Queen's Speech before the general election.
The home secretary and education secretary are reported to be at loggerheads over the handling of Islamist extremism including the so-called Trojan horse plot to seize control of classrooms in Birmingham schools.
According to The Times, Gove believes May has not done enough to robustly tackle the threat from extremism and wants the Home Office to take a tougher line.
But on Tuesday evening May hit back with public criticism of Gove and the Department of Education. In a letter, unusually published online, the home secretary attacked the "inability of local and central government to tackle the problem" of extremism in schools effectively. "It is clear to me that we will need to take clear action to improve the quality of staffing and governance," she said.
The pair attempted to play down the row on Wednesday morning by issuing a joint statement insisting they are "working together" on the issue. And Gove said he thought May was a "brilliant" home secretary.
But the spat between two of the most senior Tory cabinet minister has dominated the news agenda on the same day that David Cameron attempts to set out his legislative agenda for the coming year.
The internal-Tory argument comes against a background of chatter about who will succeed Cameron as leader of the Conservative Party.
Yesterday a poll of party members for Conservative Home gave May a 12-point lead over her nearest rival for the top job with 35% of the vote. Gove ally George Osborne is far behind with the support of just 8% of members.
Boris Johnson, who was in second place in the poll on 23%, said today he has no idea why May is a more popular choice than him to be the next Conservative party leader. On his regular Ask Boris phone-in show on LBC, Mr Johnson dismissed discussion about the party's next leader as a "completely meaningless abstract consideration".
Asked why MMay was more popular than him, Boris replied: "Search me, gov. It's very, very good that there are loads of Conservative politicians that are doing good stuff at the moment." He insisted he was "very happy" to be "mired" at 23% because there was "no vacancy" at the top of the party.
Labour gleefully seized on the public row. Shadow home secretary Yvette Cooper said: "For two such senior ministers to launch a vitriolic public blame game in this way is appalling and irresponsible when they should be working together to sort out such serious problems.
"Preventing extremism is immensely important - in communities and in schools. The truth is that Michael Gove's reforms have made it easier, not harder, for schools to be run inappropriately, while Theresa May has cut back Prevent programme funding that previously worked to tackle a wide range of extremism.
"They have both failed to prioritise this issue and are now engaging in playground activity rather than acting like secretaries of state. Too often both Michael Gove and Theresa May resort to public blame games rather than taking any responsibility themselves or working together with others. This is bad government and David Cameron should sort it out."