British restaurants have been serving rabbit dishes using meat from animals forced to live in appalling conditions in Spanish factory farms, a horrifying undercover investigation has found.
Campaigners from the Animal Equality charity went undercover to expose the conditions at four slaughterhouses and 70 farms, including two which it says have supplied rabbits to restaurants such as the Terrace at the National Theatre in London.
The charity has posted a video and images from the two-year investigation on its website, which includes footage of a vet smashing a rabbit against the ground.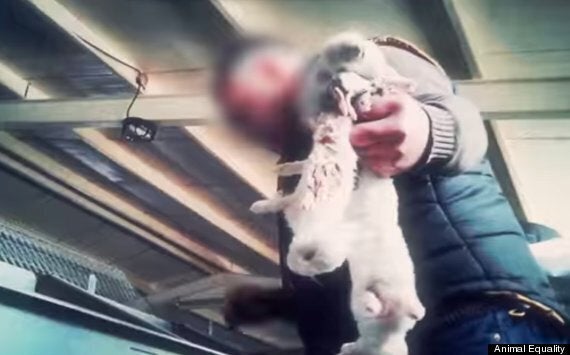 The investigation found animals killed by blunt force, workers throwing live rabbits into waste containers due to over-production and animals with open wounds or infections left in cages without treatment.
It also found cannibalism among certain animals provoked by over-crowded conditions and dead animals left to rot in cages next to live animals.
The charity said it had already taken legal action against the farms and slaughterhouses investigated.
The charity's UK head of investigations, Matteo Cupi, said: "We are shocked by these images, where farm workers kill young rabbits by blunt force trauma and sick animals are left for days crammed inside filthy cages with no veterinary treatment.
"We as a modern and civilised society should not tolerate these abuses."
A spokeswoman for the National Theatre said: "We were deeply disturbed to learn of the allegations made about practices on certain Spanish rabbit farms.
"One of our UK-based suppliers has been linked through a chain of wholesalers to some of these farms and as such we immediately removed the rabbit dish from our menu and will not be reinstating it.
"We have also suspended our relationship with the supplier in question pending further investigation."
Related