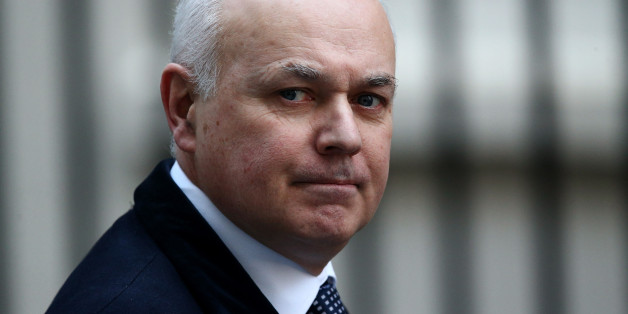 Dan Kitwood via Getty Images
Iain Duncan Smith has lashed out at the Big Issue magazine, claiming that "more and more" migrants were using the magazine as a way to claim benefits.
The Work and Pensions secretary said immigrants from southern and eastern Europe who had recently arrived in Britain were "immediately" able to claim tax credits due to their self-employed status as sellers of the magazine, which is published for and sold by homeless people.
A spokesman for the Big Issue magazine said that the problem was "not of its making" and added that it was "inherent in the benefits system created by the government".
SEE ALSO
Asked to give evidence about benefit tourism after a speech in Berlin, Duncan Smith admitted that there was no systematic evidence but that anecdotal evidence had helped create a perception that angered taxpayers.
"You need to deal with the perception and there is a core element of truth that in that influx a number of people did find themselves drifting in and out of benefits," he said.
"A good example of that is the Big Issue, a magazine which is a brilliant idea by a brilliant individual who himself was homeless. It is wonderful," he said. "But actually what is happening progressively, more and more, is people mostly from southern and eastern Europe have actually ended up being Big Issue sellers and they claim, as self-employed, immediately, tax credits.
"So when we talk about benefits, they are not just out-of-work benefits, they are also in-work benefits that are being claimed. Romanians have been claiming those for some time now, regardless of when they came in.
"We had a reasonable influx of Romanians long before we opened the doors on January 1. They came in on the self-employment level and that is an issue that needs to be dealt with. So [when] I talk about benefit tourism in a sense, we are talking about in-work benefit tourism."
The Big Issue said in response: "The Big Issue was set up to lift people into work and reduce the chance of people in need ever resorting to wrongdoing. By giving people a genuine hand up rather than a handout it is providing a real cost-saving for the taxpayer.
"If the government feels that the rules applying to in-work and out-of-work benefits need changing, then they need to look at that carefully. In the meantime, it is wrong to promote the idea that the Big Issue is doing anything nefarious or harmful in adding to a problem which is not of its making."
A spokesperson for the Department for Work added: "We recognise that this was a loophole that was abused and that's why, this March, we introduced the minimum earnings threshold of £153 per week."