UPDATE:
A manhunt is underway in Canada after three police were killed by a heavily armed gunman dressed in army fatigues.
New Brunswick's Royal Canadian Mounted Police (RCMP) are urging residents to stay inside their homes, following the shootings in the Moncton area on Wednesday evening.
A further two officers have been wounded.
Scroll down for video of residents in Moncton reacting to gunshots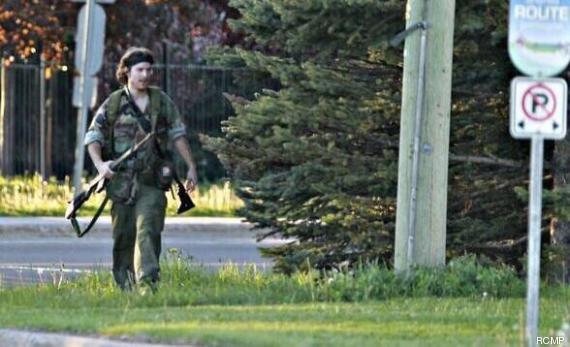 The Royal Canadian Mounted Police have identified the suspect as Justin Bourque
The suspect has been identified as Justin Bourque, 24, and is considered armed and dangerous, the Associated Press reports.
RCMP Constable Damien Theriault broke down in tears during a press conference and asked the public not to reveal the location of officers on social media.
A Facebook page for a Justin Bourque in Moncton appears to be still active during the manhunt and features several anti-police and pro-gun posts.
My heart and prayers go out to officers families and victims to this horrible shooting in #Moncton. Man on the loose pic.twitter.com/J65Lglq4Sn

— Brian Wang (@brian_wang) June 5, 2014
This ain't good: #monctonshooting "He looked like Rambo" says Joan MacAlpine Stiles, who saw man with gun pass through her backyard.

— chris kayaniotes (@kayaniotes) June 5, 2014
The user's profile picture is of two men in camouflage jackets posing with guns, with shell casings littering the snow around them.
The most recent status update, posted a few hours before the shootings, features lyrics from a Megadeth song called Hook In Mouth. It reads:
A cockroach in the concrete, courthouse tan and beady eyes.

A slouch with fallen arches, purging truths into great lies.

A little man with a big eraser, changing history

Procedures that he's programmed to, all he hears and sees.

Altering the facts and figures, events and every issue.

Make a person disappear, and no one will ever miss you.

Rewrites every story, every poem that ever was.

Eliminates incompetence, and those who break the laws.

Follow the instructions of the New Ways' Evil Book of Rules.

Replacing rights with wrongs, the files and records in the schools.

You say you've got the answers, well who asked you anyway?

Ever think maybe it was meant to be this way?

Don't try to fool us, we know the worst is yet to come.

I believe my kingdom will come.
There has been no confirmation that this Facebook page belongs to the same Justin Bourque named as the shooting suspect.
One witness near the scene of the shooting told CBC news he saw one officer bleeding from a wound in the top of her head.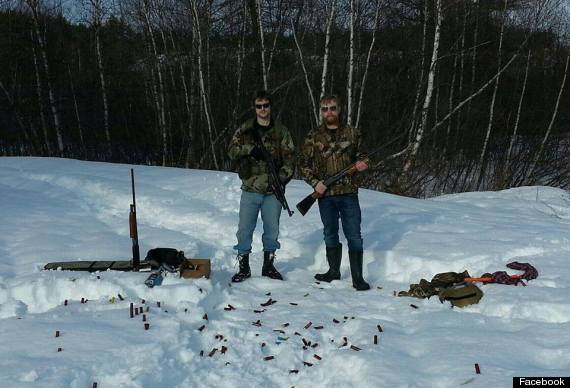 The profile picture on from a Facebook account which may belong to the suspect
Joan MacAlpine-Stiles told the news channel she saw the suspect when she went to open a window.
She said: "I said, 'Oh my God, there he is with camouflage and the headband and a gun, and it looked like a bow he had with him. And I mean he was just through our backyard.'"
Police were called at around 7.30pm amid reports of an armed man in military fatigues.
It is now believed the suspect is hiding in a wooded area in the Pinehurst subdivision area. The Associated Press reports he had been spotted three times on Thursday but continues to elude police.
As of this morning, the RCMP was tweeting to remind the public to stay inside and lock their doors.
Some schools, businesses, government offices have been closed, as have several of the city bus services.
#RCMPNB#Codiac still actively looking for shooter near Pinehurst SubDiv. in Moncton. Stay in. Lock doors. Avoid this area. Stay Safe!

— RCMP New Brunswick (@RCMPNB) June 5, 2014
#Moncton area schools, along with some businesses, government offices, & Codiac Transit closed as the manhunt continues. #monctonshooting

— MAX104.9 FM (@Max1049bathurst) June 5, 2014
If you live in the marked area stay inside / lock doors. Roads blocked. Traffic disrupted. Avoid area #Codiac#RCMPNBhttp://t.co/GYjJpqJ0dS

— RCMP New Brunswick (@RCMPNB) June 5, 2014