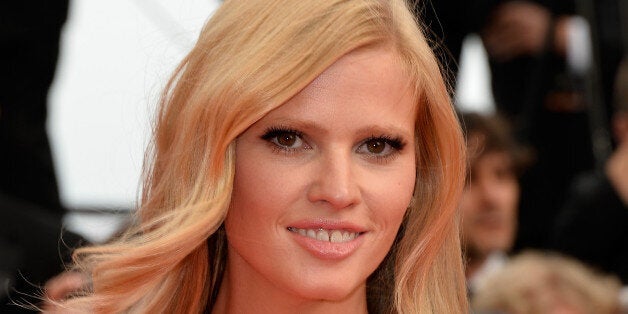 Lara Stone was turned away from a modelling job after revealing that she was pregnant.
The Dutch model, who was less than three months pregnant and hadn't even had her first scan, told the booker that she was expecting her first child before heading to the shoot.
But when she arrived, she found that another model had replaced her.
While Lara received no explanation as to why the change had been made, she assumes it was due to her size.
"I was really upset at the time," Lara told The Evening Standard. "I hadn't yet had my three-month scan and I felt really vulnerable about everything. I no longer had a job. That was it — I had to just stop everything that I knew; the way my life was."
During the interview, she said it isn't the first time she has been scrutinised because of her size. Shocking, even for the fashion industry, given her long lean frame, big breasts and signature gap tooth.
Since giving birth to her and David Walliam's child, Alfred, in May 2013, she has adopted diets and the help of a personal trainer to get back in shape.
"Once the baby was out," she says, "I was like, 'What the hell is going on?' My arms don't fit into my sweaters. I couldn't get my jeans over my knees. I couldn't find a bra that fitted me. I had body dysmorphia but the wrong way round."
She is now back to work but admits that it is harder trying to fit into sample sizes.
"I've had a few meetings because when they hear pregnancy they freak out a bit," she says. "So they need to see if I fit in their clothes."
"There is a relentless pressure on all women, celebrities or not, to be thin all the time and research shows mothers who are preoccupied with body image problems are not only damaging their bodies but these negative attitudes can be passed onto their children.
"It's sad that women feel pressured to lose weight so quickly after pregnancy, and it isn't healthy. That's why midwives and health visitors are vital players here. Pregnancy and the early months after having a baby should be a time when a women's focus is on her health and wellbeing, and that of her child, not losing weight."