Pope Francis is set to lead an unprecedented "intense prayer session" with both Palestinian president Mahmoud Abbas and Israeli President Shimon Peres at the Vatican on Sunday.
Both have taken up the pontiff on this unlikely meeting, which the Vatican has stressed is for spiritual reasons only, and not an attempt to mediate in stalling peace negotiations. The Middle East leaders will be accompanied by imams, rabbis, and a top Orthodox leader, the Ecumenical Patriarch of Constantinople Bartholomew.
"They will pray together but each in respect of their faith," the Vatican affairs website Il Sismografo reported.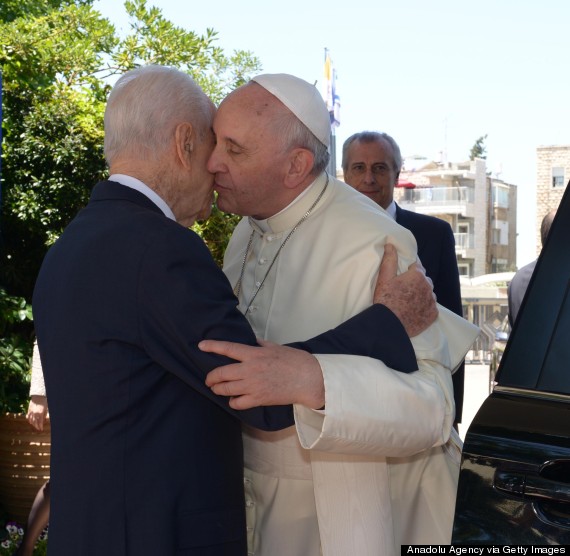 Pope Francis (R) is welcomed by Israeli President Shimon Peres (L) ahead of a meeting at the presidential residence in Jerusalem
The precise format for the prayer session, and even its location within the city-state are being kept under wraps but it is likely it will be in the pope's residence or in the Vatican gardens.
Francis had originally told journalists on the flight back from Jerusalem to Rome about his plans to organise such a meeting. "This prayer meeting will not be for mediation or to find solutions. We are just meeting up to pray. Then everyone goes home," the pontiff said.
"Praying together without any talks could help. Concrete peace measures have to come from negotiation. To be honest, I do not feel competent to say: we need to do this or that. It would be crazy on my part!" he added.
The precise format for this prayer and even where it will take place are being kept under wraps but it is likely it will be held behind closed doors and possibly in the pope's residence or outdoors in the Vatican gardens.
While in Bethlehem, the Pope had issued an open invitation to Israeli and Palestinian leaders "to join me in heartfelt prayer".
"Building peace is difficult, but living without peace is a constant torment. The men and women of these lands, and of the entire world, all of them, ask us to bring before God their fervent hopes for peace," he added.
Israeli-Palestinian peace talks broke down in late April and there have been no high-level meetings for a year. The Pope spent time with both Israeli Jews and Palestinian Muslims, as well as Christians on both sides of the Green Line during his trip last year.
The pontiff spent time at the River Jordan, visited Syrian refugees in jordan, celebrated mass in Bethlehem, prayed at the separation wall in the West Bank, visited the Dome of the Rock, left a note at Judaism's most holy site, the Western Wall, kissed the hands of Holocaust survivors, and had a tiff with Prime Minister Benjamin Netanyahu about the language Jesus spoke.
The prayer sessions is unlikely to have much political ramifications for Peres. The 90-year-old Nobel peace laureate has come to the end of his presidential term, and will not serve another.
The leading candidate to take his place is 74-year-old former Knesset Speaker Reuben "Ruby" Rivlin from the governing Likud party and endorsed by Prime Minister Benjamin Netanyahu's endorsement.
Rivlin is a dedicated opponent of Palestinian statehood, and were he to win the election, the office of President would no longer be a podium for championing the peace process, as it has been under Peres, the country's leading proponent of the two-state solution.