Thomas Müller, a Manchester United transfer target, has revealed he will seek clarification over his Bayern Munich future amid concerns he is becoming a peripheral figure under Pep Guardiola.
Müller, set to start for Germany at the World Cup finals, emerged into the Bayern side under incoming United coach Louis van Gaal but was forced to adapt to a number of roles under Guardiola during the Bavarians' double-winning campaign.
The 24-year-old still managed to score 13 times in 25 Bundesliga starts, however the attacking midfielder was often deployed as an unorthodox striker and also started on the wing. He also conceded he has a relationship with Van Gaal "that goes a little beyond the normal relationship between coaches and players."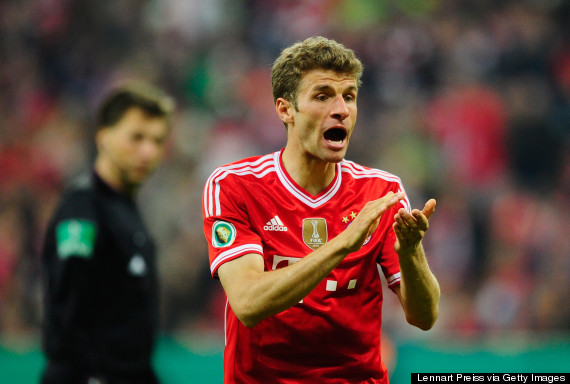 Müller scored against United last season in the Champions League quarter-finals
"I have reached the point where I want to know if I am an essential component of the Bayern Munich first XI for the new season and if the club has plans for me over the coming years," Müller told the German magazine Stern.
"That's why I will be out to have a meeting. I am not the type of guy that says: 'All right, I have played a good part and will keep my mouth shut and everyone else is able to do with me whatever he wants.' As a Munich boy your test at Bayern Munich is always a bit tougher, but we [players from the youth academy] are the grassroots of this club."