The former student leader of demonstrators who occupied Tiananmen Square in 1989 managed to slip through China's tight crackdown on celebrating the 25th anniversary of the massacre to attend a vigil in China.
Zhou Fengsuo was in the top five of the Chinese Communist Party's most wanted student demonstrators after helping to organise the peaceful protests against the government.
Fengsuo managed to commemorate the anniversary by visiting Tiananmen Square at the exact time when tanks and troops opened fire at unarmed civilians a quarter of a century ago, the Financial Times reports.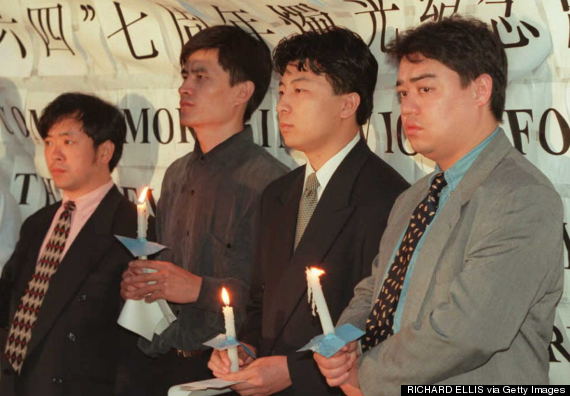 Chinese student leaders hold a candlelight vigil outside the Chinese Embassy in Washington 3 June to mark the seventh anniversary of the Tiananmen massacre. The students who led the protests in Tiananmen later escaped from China (L-R) Liu Gang, Zhou Fengsuo, Chen Tong and Wuer Kaixi
Only when he presented his passport and tried to donate money to a detention centre where political activists and human rights lawyers are being held was he recognised. He was detained by police before being escorted to the airport and put on a flight back to the US.
Fengsuo was a student of physics at Tsinghua University in the late 80s when he became leader of the Beijing Students Autonomous Federation. Following his capture and subsequent imprisonment in 1989 after being turned in by his sister, Fengsuo was exiled to the US, where he became a citizen.
"So far this year, dozens were arrested all over China," Fengsuo said, regarding the current state of China's human rights and freedom of speech. "They are human right activists, professors, lawyers, journalists, Christian and Buddhist monks, representing the broad social spectrum of the Tiananmen protesters."
Fengsuo has called for the US to step up fundings for technologies to break online censorship in China, according the The China Post. "The life of the communist regime depends on controlling the Internet and blocking access of Chinese citizens to the outside world," Fengsuo added.