This is how it feels to be City? They may be champions, but Manchester City are not the preferred Mancunian team of choice for Porto and France defender Eliaquím Mangala, who is holding out for an approach from United.
City almost bought Mangala, along with teammate Fernando in January. Manuel Pellegrini has long since identified him as the perfect partner for Vincent Kompany, yet the protracted move has hit a snag over the player's personal preference.
Only Robin van Persie, in recent years, has explicitly snubbed City in favour of United. Samir Nasri did the opposite, while City bought David Silva two years after United had a bid rejected for the then-Valencia playmaker.
Mangala could start at centre-back for France at the World Cup finals
Mangala's problem, though, is Louis van Gaal really really wants Mats Hummels as his chief centre-back, amid reports the Dutchman has reservations over Mangala's temperament. Mangala was booked 12 times last season and sent off once.
Leaving Old Trafford could be Javier Hernández, with Internazionale apparently in talks with United over a £10m fee.
With Diego Costa on the verge of signing, Chelsea will now busy themselves luring two more of his Atlético Madrid teammates to west London. Tiago is available on a free, although Filipe Luís will cost around £19.5 million. Helpfully, the brilliant Brazilian left-back wasn't selected by Luiz Scolari for the World Cup squad, which should make negotiations easier.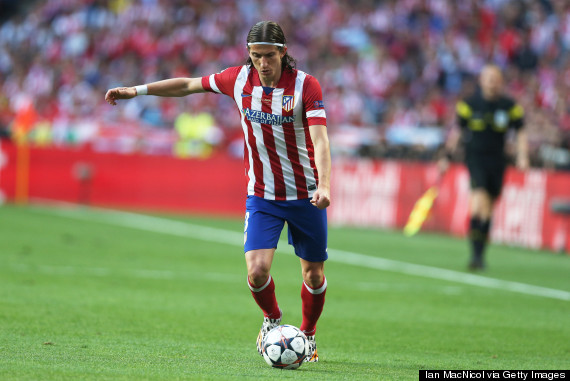 Filipe Luís could be Ashley Cole's replacement at Chelsea
José Mourinho has also confirmed he is interested in signing Cesc Fàbregas, who is expected to complete a £30m move to Chelsea.
Leaving Chelsea, potentially, is Romelu Lukaku. Everton have reportedly opened talks over a transfer, which seems like a long shot since 1. They probably can't afford him and 2. Lukaku has repeatedly stated he wants to play in the Champions League.
Arsenal have had a £6m bid rejected for Cardiff City goalkeeper David Marshall, easily the busiest stopper in the Premier League last season.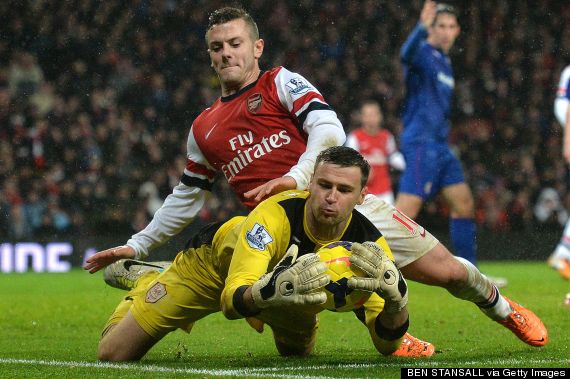 Marshalling the Gunners: But would the Scot dislodge Szczęsny?
Sevilla have accepted a £17.9m offer from Liverpool for left-back Alberto Moreno, while Marca
say Real Madrid will have to match the £80m they paid Tottenham if they want to sign Luis Suárez.
And Newcastle, being Newcastle, are now keen on Ajax midfielder Siem de Jong, after his younger brother Luuk scored a grand total of nil on loan from Borussia Mönchengladbach.