SEE ALSO:
The suspected gunman who killed three Mounties in Moncton, New Brunswick, has been arrested, The Royal Canadian Mounted Police have said.
Justin Bourque is suspected of killing three members of the Royal Canadian Mounted Police (RCMP) and injuring two others during a shooting spree on Wednesday evening. A video shot by a by-stander shows two policemen with a vice-like grip on a suspect as he is led to a police car.
Moncton resident Michelle Thibodeau told CTV News that Bourque was arrested in her backyard.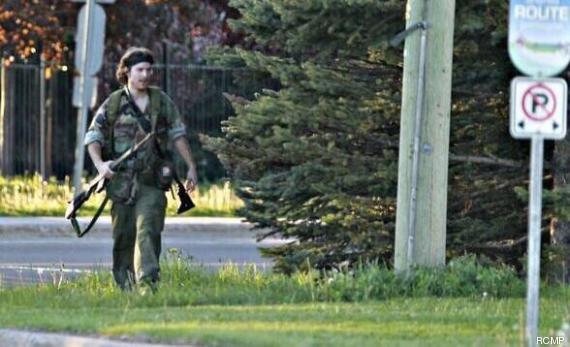 The Royal Canadian Mounted Police have identified the suspect as Justin Bourque
She noticed a SWAT team driving by when all of a sudden they headed toward the back of the house, screaming, "Come out with your hands up!"
Bourque then emerged and said, "I'm done."
"We were all shaking, it was a very scary moment," she said.
The town of Moncton in New Brunswick was in lockdown as officers searched for the gunman, who was said to have been armed with two military-style assault rifles, a bow and a knife.
Two other officers sustained non-life threatening injuries – one has since been discharged from hospital. The identities of the dead and surviving Mounties have not been released.
WARNING: GRAPHIC PHOTOS. Story continues below slideshow.
Assistant Commissioner Roger Brown told a press conference on Thursday: "It has perhaps been the darkest day in the history of the New Brunswick RCMP."
The RCMP had urged the public not to reveal the location of officers on social media as it is suspected Bourque may have been using the channels. His Facebook page appeared to still be active as he went on the run.
ew Brunswick Premier David Alward issued a statement after news of Bourque's arrest, praising the RCMP for their dedication and strength – and extended condolences to grieving families.
"These events have been among the most shocking and heart-wrenching moments in my service as premier," he said.
"To the families, friends, and colleagues of the fallen officers, although we cannot know the full impact of your suffering, your fellow New Brunswickers share the horror and pain.
"You are not alone in your grief - our hearts, minds and prayers are with you during the difficult days ahead."