It was a story that had journalists salivating at their keyboards. "The bizarre secret of London's buried diggers."
Yesterday, media outlets including the New Statesman, The Telegraph, and ITV news reported that thousands of JCBs are being buried under London homes undergoing basement excavations because it was cheaper than lifting the equipment back to street level.
This has now been dismissed as "total nonsense."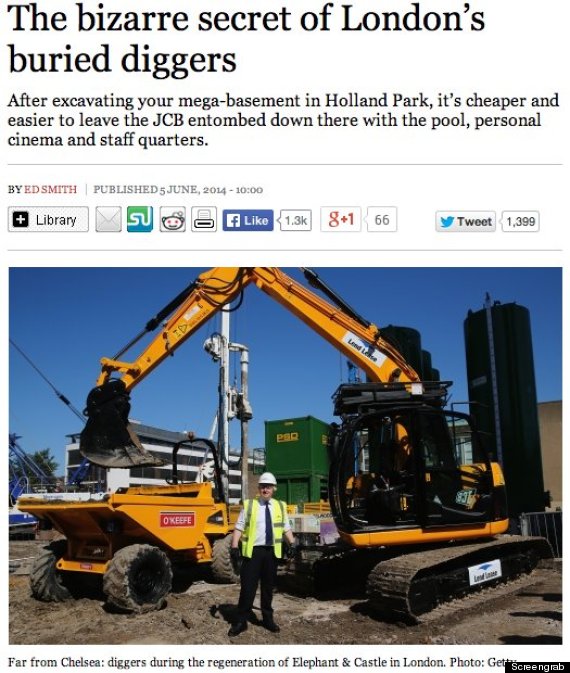 The article in the New Statesman that started it all
London's top builders have dismissed the claims, saying they make "no commercial sense."
"Property experts" apparently estimated there could be up to 1,000 JCBs buried under sand, gravel and concrete, close to some of the capital's most expensive houses.
But it is worth noting that neither the New Statesman or Telegraph mention any direct type of source, or reference any quotes within their articles.
The claims would have meant that approximately £5 million worth of machinery has been casually discarded.
Sadly this entertaining story about diggers being entombed in London basements is an urban myth http://t.co/6XSJhDJ0JZ

— Jonathan Prynn (@JonPrynn) June 6, 2014
But Don O'Sullivan, a director of London developers Galliard, told The Evening Standard that top companies would not dare risk breaching important Health and Safety procedures.
"With the basement space worth up to £8,000 per sq ft why would someone leave such valuable space filled with dumped equipment and fill in concrete? Much more valuable to extract and have as sellable space – oligarch are rich but not stupid," he said.
He added: "The only time equipment is dumped like this is [in] deep and long tunnels such as Channel Tunnel, Underground tunnel or Crossrail - these are major jobs where it makes economic sense - otherwise no."
Kevin O'Connor, managing director of Cranbrook Basements, said: "The suggestion is utterly ludicrous. Under no circumstances would this ever happen in a professional environment.
"There is always an exit strategy for the equipment."