Unless you're some kind of a saint, it's more or less impossible to resist the sweet temptation of a late-night takeaway binge. Admit it.
Luckily, Slimming World is on hand with its new Fakeaways book, which offers a healthier version of everyone's favourite naughty foods.
Feast your eyes on three delicious recipes to substitute your takeaway urges, including a double bacon burger, ricotta and spinach pizza and pork pad thai.
Yum.
Double bacon burgers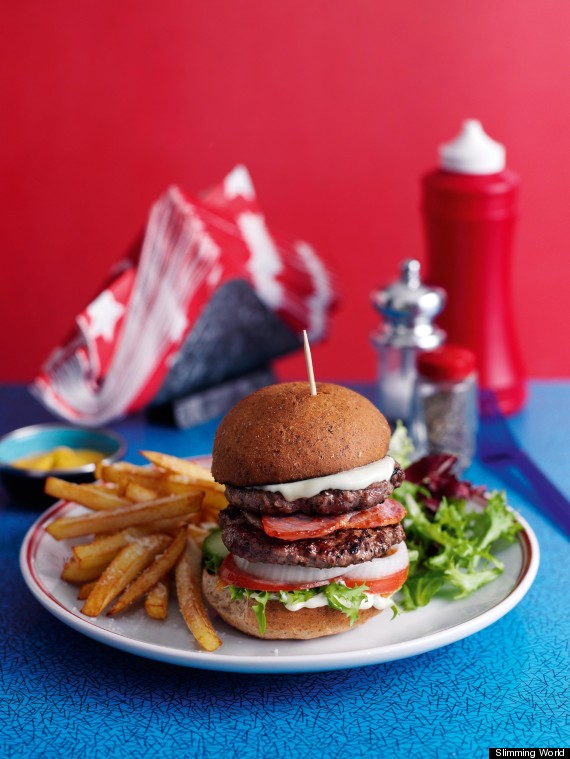 Serves 4
Ready in 30 minutes, plus chilling
1 small onion, finely chopped
500g extra-lean beef mince
Small handful of finely chopped fresh parsley
Salt and freshly ground black pepper
8 lean bacon rashers, visible fat removed
1 level tbsp. extra-light mayonnaise
2 tbsp fat free natural fromage frais
4 x 60g wholemeal rolls, halved (and toasted if you like)
A few lettuce leaves
¼ cucumber, thinly sliced
1 tomato, thinly sliced
1 onion, sliced into thin rings
Place the onion, beef and parsley in a large bowl. Season and mix well with your hands until combined.
Divide the mixture into eight equal portions and form each portion into a burger. Place the burgers on a plate lined with baking parchment, cover and chill for 30 minutes.
When you're ready to cook, preheat the grill to high.
Heat a large non-stick frying pan over a high heat then gently press the burgers into the pan – you may need to cook them in two batches. Cook for 1 minute then turn and cook for a further minute to seal.
Reduce the heat to medium and cook for a further 5 minutes, turning frequently until cooked through.
Meanwhile, grill the bacon for 3-4 minutes on each side or until cooked to your liking.
Remove the burgers and the bacon from the heat and drain on kitchen paper.
Mix the mayonnaise and fromage frais together and spread on both halves of the rolls. Fill with the lettuce, cucumber, tomato, onion, burgers and bacon.
Serve hot with chips and plenty of salad.
Ricotta and spinach pizza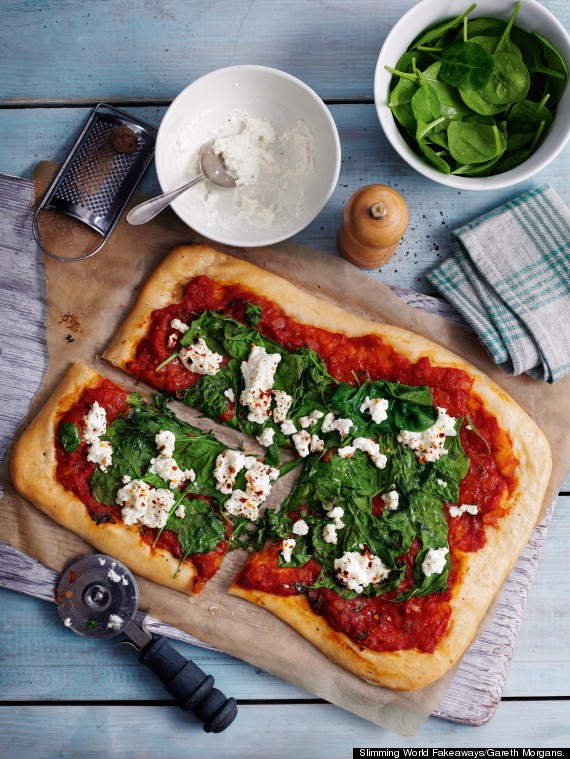 Makes 1 pizza, big enough to serve 4
Ready in 1 hour
125g strong bread flour
1 x 7g sachet instant active yeast
1 tsp salt
4 shallots, finely chopped
3 garlic cloves, crushed
2 tsp dried oregano
400g can chopped tomatoes
4 tbsp tomato puree
Small handful of finely chopped fresh basil
Salt and freshly ground black pepper
Large handful of baby spinach leaves
a little grated nutmeg
120g ricotta
a pinch of dried red chilli flakes
Put the flour into a large bowl and stir in the yeast and salt. Make a well in the middle, pour in 75ml of warm water and mix with a wooden spoon until you have a soft, fairly wet dough. Dust a surface very lightly with flour, turn out the dough and knead for 5 minutes until smooth. Cover until you're ready to roll it out.
Put the shallots, garlic, oregano, chopped tomatoes, tomato puree and most of the basil into a saucepan.
Cook over a medium-low heat for 25 minutes, until you have a thick, spreadable sauce. Season well, scatter over a little more basil.
Preheat the oven to 200°C/Fan 180°C/Gas 6.
Then, on a very lightly floured surface, use a rolling pin to roll out the dough into a very thin rectangle.
Slide it onto a preheated baking sheet, lined with non-stick baking parchment, and spread with the tomato sauce.
Scatter the spinach leaves over the pizza and grate a little nutmeg over the leaves. Spoon dollops of ricotta on top and sprinkle chilli flakes over the ricotta.
Season well and baked for 15-20 minutes or until the base is golden.
Pork pad thai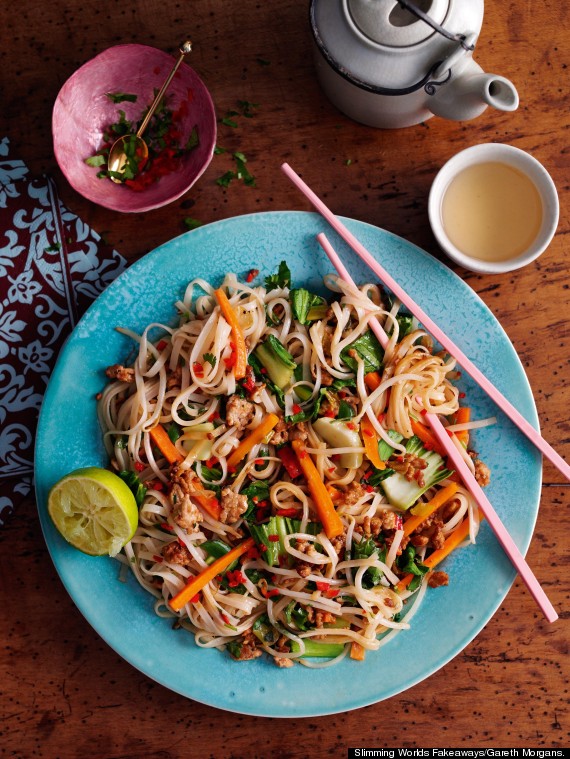 Serves 4
Ready in 30 minutes
low calorie cooking spray
500g extra-lean pork mince
2 garlic cloves, crushed
1cm piece of root ginger, peeled and finely chopped
bunch of spring onions, sliced diagonally
5 tbsp boiling vegetable stock
2 tbsp dark soy sauce
1 tsp Thai fish sauce (nam pla)
250g dried flat rice noodles
2 carrots, peeled and chopped into matchsticks
2 pak choi, roughly chopped
250g fresh bean sprouts, rinsed
1 egg, lightly beaten
1 red chilli, deseeded and finely chopped
small handful of finely chopped fresh coriander, to serve
lime halves, to serve
Spray a large non-stick wok or frying pan with low calorie cooking spray and place over a medium-high heat. Add the pork and fry for 3-4 minutes until browned. Add the garlic, ginger, spring onions, stock, soy sauce and Thai fish sauce, turn the heat to low and cook for 5 minutes.
Meanwhile, cook the noodles according to the packet instructions, then drain and set aside.
Add the carrots, pak choi and bean sprouts to the wok and turn the heat to high. Stir-fry for 5 minutes or until the vegetables are just tender.
Add the noodles to the wok, drizzle over the egg and toss to mix well.
Cook for 1-2 minutes until the egg is just cooked through then remove from the heat.
Scatter over the chilli and coriander and serve hot with lime halves to squeeze over.
Recipes taken from the brand new recipe book Slimming World's Fakeaways, which is available in all 11,000 Slimming World groups across the UK and Ireland at £4.95/€7.95.