Argentina and England are unlikely to meet at the World Cup finals, however their rivalry was reignited at the weekend when the Argentine national side posed behind a banner claiming the Falkland Islands belong to the South American country.
Ahead of their warm-up match with Slovenia in Buenos Aires, the team displayed the message in support of the country's claims over the sovereignty of the islands in the South Atlantic, which are a British Overseas Territory.
Back in April, Argentina accused Britain of provocative behaviour by planning to carry out military exercises in the Falkland Islands.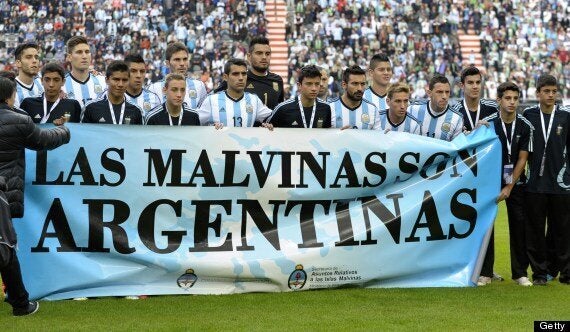 Argentina players pose with a Falklands banner in Buenos Aires
Despite repeated diplomatic clashes over the territory since President Cristina Fernández de Kirchner took power in Argentina in 2007, islanders voted by 1,513 to three in favour of remaining British in a referendum last year, which Prime Minister David Cameron said "could not have sent a clearer message".
Argentina beat Slovenia 2-0, with goals from Lionel Messi and Ricardo Alvarez.
England and Argentina's footballing rivalry dates back to their 1966 World Cup quarter-final, when Argentina captain Antonio Rattín was sent off and refused to leave the field of play. A Geoff Hurst header decided the contest, however embittered Argentines banged on the Wembley walls at full-time and urinated in the tunnel.
When asked about semi-final opponents Portugal, England coach Alf Ramsey said his side would face a team determined to play football "and not act as animals".
Following the Falklands conflict in 1982, the countries met each other at the last eight stage of the 1986 World Cup finals. An incendiary occasion, Diego Maradona's "Hand of God" and "Goal of the Century" settled the contest, despite Gary Lineker scoring, and Argentina went on to win their second World Cup.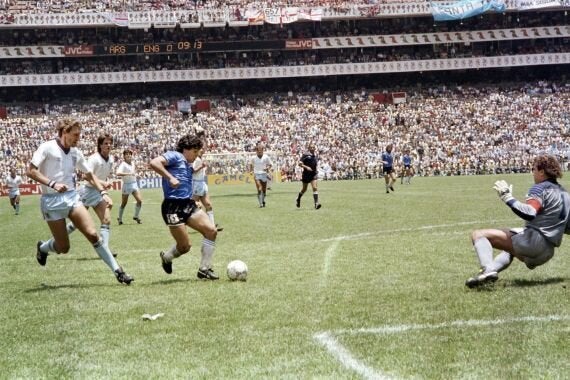 Maradona rounds Peter Shilton to finish the Goal of the Century
Twelve years later at France '98, the teams played out arguably the game of the tournament in St Etienne. Michael Owen's virtuoso solo goal, Javier Zanetti's superbly choreographed equaliser, David Beckham's petulant - and costly - flick at Diego Simeone, Sol Campbell's disallowed goal and a penalty shootout enriched a tense, yet terrific contest as Argentina emerged victorious from 12 yards.