Jeff Astle's widow claims the Football Association "don't care" about examining footballers' head injuries.
Astle, who is best remembered for scoring West Brom's winning goal in the 1968 FA Cup final, died in 2002 aged 59 after being originally diagnosed with Alzheimer's disease.
However, neurosurgeon Dr Willie Stewart carried out a re-examination of Astle's brain at Glasgow's Southern General Hospital after being granted permission by the footballer's family. He concluded Astle had died from a brain condition known as chronic traumatic encephalopathy (CTE), a disease found in individuals with a history of multiple concussions and other forms of head injury.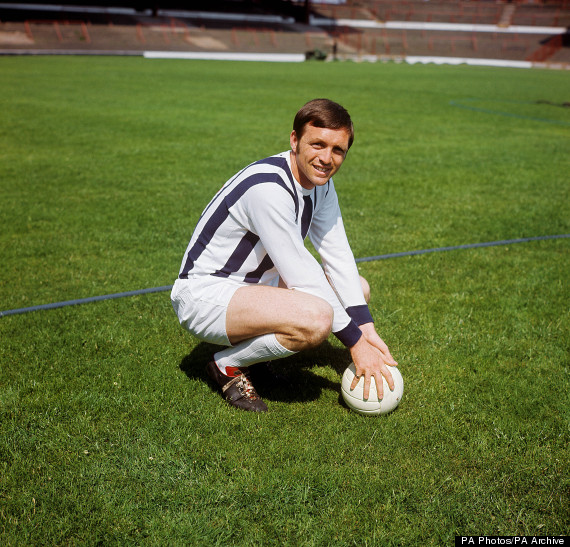 Astle scored the winner in the 1968 FA Cup final
Astle's family have been campaigning for the FA to investigate the damage caused by head injuries in football and his wife, Laraine, broke down in tears on Monday as she described her disgust FA chairman Greg Dyke had not contacted her family after he was sent advance notice of the latest examination of her husband's brain.
Mrs Astle, 67, said: "I just feel the FA, they don't care. They just want the World Cup and all the things that go with it.
"They're not bothered about former players. They're not bothered about our family's suffering. He [Dyke]'s swanned off to Brazil and he's never acknowledged anything."
"We thought foolishly perhaps that we would have had some reply from him as the seriousness of CTE was found which left no doubt whatsoever what killed Jeff.
"We perhaps thought an email or a phone call just to say 'I did receive your letter and I'm so sorry to read how badly damaged Jeff's brain was and the result of it.'"
Mrs Astle made the comments at the launch of a cross-party report, entitled Concussion Can Kill, which calls for a Parliamentary inquiry into concussion in sport.
On hearing her remarks at the event in Portcullis House, central London, Labour MP Chris Bryant said: "That is pretty despicable to be honest.
"If only 0.7% of the transfer money that is spent on footballers every year was devoted to research, it would make a dramatic difference and families such as yours might not have to face this again."