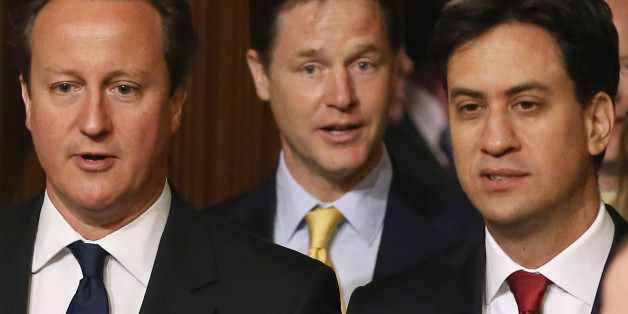 Dan Kitwood via Getty Images
The Liberal Democrats will commit to "significantly" reducing the national debt as a percentage of GDP every year from 2018/19 and only borrow to invest in projects to boost growth, Nick Clegg will announce today.
The two rules will form a key part of the economic strategy in the Lib Dem manifesto for the 2015 election as Clegg attempts to distance his party from Tory future tax and spending plans which he claims would mean "austerity forever".
Clegg has committed to George Osborne's timetable to eliminating the structural deficit by 2017/18, but he will insist that the Lib Dem would do it in a way which would see the rich pay a greater share.
He will also stress the importance of investing in housing to "protect the country from another crisis" by reducing the risk of a property bubble.
In a speech which effectively starts an extended campaign by the Lib Dems ahead of next year's general election, Clegg will accuse his coalition colleagues of planning to balance the books by hitting those "down on their luck" or "scraping by on the minimum wage".
But he will also promise to avoid a return to the "reckless borrowing" of Labour's time in office, insisting that investment would focus on infrastructure and new homes.
Speaking in the City of London he will announce the party's two fiscal rules, which would be monitored by the Office for Budget Responsibility.
Stressing the need to "finish the job we've started" in balancing the books, Clegg will promise to do it in a "fundamentally different way to the Conservatives".
Highlighting the need for £12 billion in welfare cuts under the Tory plans he will say: "That means that when the Conservatives looked across society and thought 'who should bear a bit more of the burden?' they didn't choose the best off.
"They settled on people scraping by on the minimum wage, the jobseekers who've found themselves temporarily down on their luck, the men and women trying to earn their way out of poverty, often working more than one job.
"I cannot accept that at all."
Instead the Lib Dems would mix spending cuts with tax rises for "those with the broadest shoulders" including extra council tax bands for higher value properties.
In setting out his plans once the deficit is eliminated, Clegg will commit to reducing the national debt to "safe levels" at a "sensible rate" as long as the economy is growing.
"There is nothing remotely liberal or fair in handing on sky-high levels of debt to future generations," he will say. By reducing debt as a percentage of GDP year on year when there is growth, a sustainable level will be reached "around the middle of the next decade".
Once the deficit is dealt with the Lib Dems would implement a balanced budget rule, with an exception for capital spending on projects to enhance growth or financial stability.
"It means future governments will have to live within their means and the money we spend on public services will grow roughly in line with the growth of the economy as whole.
"But we will allow for one significant exception: government will be able to borrow in order to fix our creaking national infrastructure."
Borrowing would fund improvements to railways which are a "throwback to the 1970s", pay for schemes to ease congestion on roads and improve 19th century water and waste networks.
He will say "we are prepared to put our shoulders to the wheel and use the muscle of the state - if necessary through borrowing - to rewire and revamp our infrastructure".
But the biggest problem was housing, where up to 300,000 new homes a year were needed to meet demand.
"It's time to put our money where our mouth is. We have to give people the homes they need and protect the country from another crisis - and if that means borrowing a bit when times are good and debt is falling, so be it," he will say.
"We are not the Tories. We don't believe in an ever-shrinking state. We are not so ideological about making cuts that we'll deny people the things they need. We're not so dogmatic about borrowing that we'll jeopardise Britain's economic health. Responsibility, yes, austerity forever, no.
"We're not Labour either. Gordon Brown used to slap the words 'capital spending' on anything and everything just so he could get away with borrowing to pay for it. That can never be allowed to happen again. Sound investment yes, reckless borrowing, no.
"You can be fair but responsible with it. You can be credible without being cruel. You can free our children from our debts while investing in their futures too."