If there's one way to get revenge on your cheating wife, it's selling her wedding dress on Gumtree.
At least that's the final blow dealt by one heartbroken - and understandably angry - husband after he found his wife was having sex with one of his best friends.
In the hilarious advert for 'Bride Seeking Eventual Infidelity', the Sydney-based man labels his wife an "adulterous, deceitful, double-crossing and traitorous 'soulmate'", before adding: "Cosmetically, the garment is in better condition than the marriage – not looking for much. Make an offer."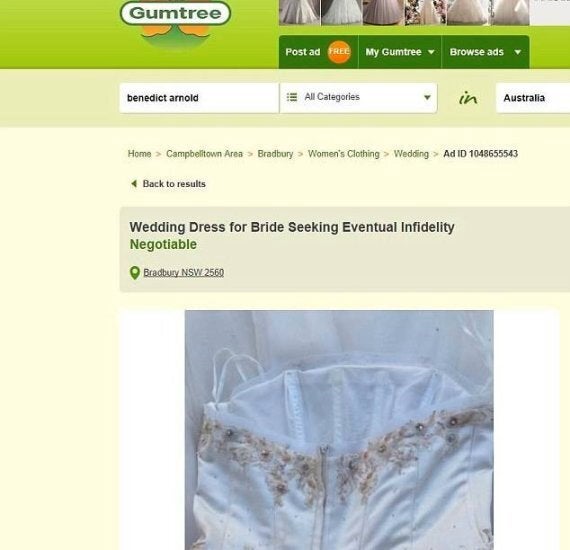 He writes: "Due to be married soon? Not planning on staying faithful? Want to sleep with one of your soon-to-be husband's closest friends? Then THIS is the wedding dress for you!
"This stunning, tuille swathed, ivory bridal gown has a proven track record of producing an adulterous, deceitful, double-crossing and traitorous soulmate."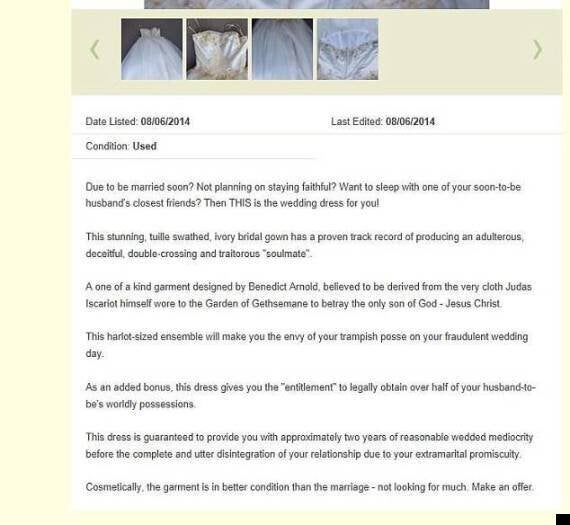 He adds: "A one of a kind garment designed by Benedict Arnold, believed to be derived from the very cloth Judas Iscariot himself wore to the Garden of Gethsemane to betray the only son of God – Jesus Christ."
"He went through a lot of crap. They had a divorce settlement and he's happy now."
The author added: "He was laughing actually when I told him about all the attention the ad's been getting."