Peruvian food was a big thing in London a couple of years ago, and, in the same way that Mexican food has taken on a more sophisticated interpretation beyond bright colours and guacamole in plastic bowl, we are now seeing a new evolution.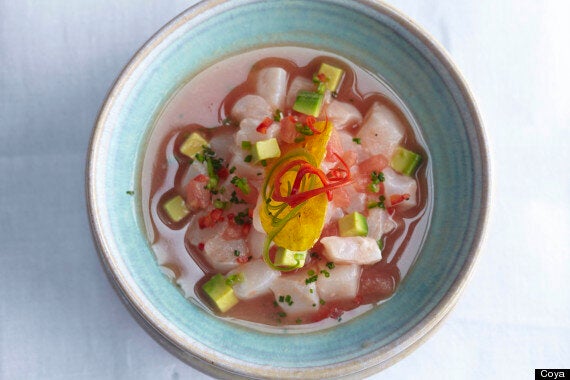 A three-week crash course in all things Peruvian changed that, however.
On the menu, ceviche - cubes of fish and seafood marinated in lime juice - of course makes an appearance, but so do tiraditos, a different style of cut - similar to a carpaccio. This is a much more grown-up version of ceviche, however; we try a wild sea bass studded with nutty kernels of white corn where the tartness of the lime is undercut by buttery avocado, and a crab salad topped with two giant prawns and a delicate-looking garnish.
Tiny scallops nestling in a brush of sweet tasting sauce is less spectacular but rescued by a standout of grilled duck hearts carpeted in chopped spring onions. Like other offal, timing is critical but these were perfection.
For our mains, we chose a rib eye and an 'iron pot' to share. The latter is how they look in local villages - pots simmering with food over low embers. The iron pot contains more seabass - juicy, full of flavour and sitting in a silky rice stew. Afterwards, we are full but not to bursting.
Wanting to know how Sanjay created his ceviche, we asked him for the recipe. Take a look:
6 fillets of seabass, skinned
½ bunch coriander (keep 10 leaves aside)
½ deseeded, finely chopped long red chilli
½ finely sliced red onion
1.In a blender – blitz onion, celery, garlic aji limo, coriander, ginger with fish stock. Ensure it's just to break down the vegetables – not to purée them. The idea is to just release the flavour of vegetables to the fish stock. Pass through a sieve, add lime juice and salt. Keep aside in the fridge.
2.Dice sweet potatoes into 1 cm cube. In a pan, add 1 litre water, sweet potatoes, star anise, gently bring to boil and cook sweet potatoes for 5 minutes- until cooked, refresh in iced cold water. Keep this aside.
3.Blanch Peruvian corn for 10 minutes in salted water, refresh in iced cold water and keep aside.
4.When ready to serve, dice seabass into 2cm cubes. Season with salt and 1 lime juice. Add Leche de Tigre, and mix well. Taste for seasoning. Now add sweet potatoes, Peruvian corn, chopped reserved coriander, and red chilies. Mix well, marinate for no longer than a minute. Finish with finely sliced red onions.
(a)The sea bass can be substituted with Salmon, Sea bream, Scallops and Prawns.
(b)Aji Limo, if not available, can be substituted with your favorite chilli.
(c)Peruvian White corn, if not available, can be either omitted or when in season- use sweet corn.
(d)Steps 1-3 can be done in advance.
Related