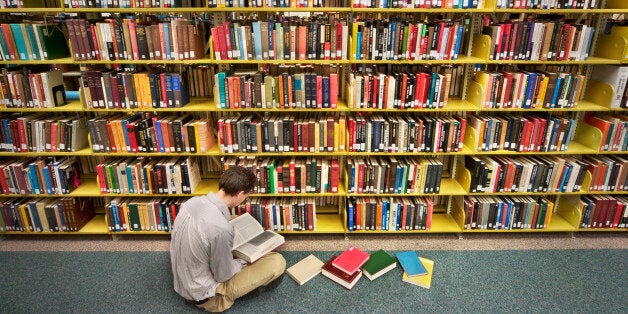 In an extreme attempt to save his degree, a failing University of Birmingham student, known as the "UoB Library Hermit", lived in the library for six weeks after striking a deal with his top lawyer brother.
The student, who has remained anonymous, but says he will reveal his identity soon, needs an average of 72% to pass his exams. Ouch.
According to the elusive Library Hermit's Facebook page his brother, who we assume earns well, offered him £30,000 (enough to pay off his student loan) if he passes the challenge, which involves the Library Hermit "eating, sleeping, breathing, sh*tting in the library", as he delicately puts it.
Only allowed to leave the library grounds 45 minutes a day to shower and the same time every other day to buy food, his dedicated flatmates took shifts to make sure he didn't break the rules, and did his washing for him.
According to the Library Hermit himself, he had never spent "more than six minutes in the library, let alone six weeks".
His strict inventory of possessions included one pair of shoes, two pairs of socks a sleeping bag, one razor and eight pairs of pants, among other limited essentials.
The Library Hermit has gathered something of a cult following, with 15k likes on his Facebook page, created to document his journey, and probably keep himself sane.
His popularity was fuelled by numerous anecdotes, which appear to have touched the hearts of students everywhere, and he recently won the eternally coveted "Big Name on Campus Award".
As well as becoming a cult figure, the Library Hermit appears to have acted as a one-man library police, proudly shushing loud students and taking justice into his own hands when it comes to misbehaving library users.
After the completion of the gruelling six weeks, Library Hermit appears to be enjoying some well-deserved partying, "drinking vodka aplenty".
"He's been a great conversation-starter over the revision period," one University of Birmingham student told HuffPost UK.
But his story has not been without controversy, with followers labelling him a "misogynist" on a regular basis, although he claims his these comments are satirical.
Others have accused him of being a hoax, but generally, students are desperate to know who this guy is. According to one tweet, he was spotted on a night out – we're not sure if was actually him, though.
A statement on the Library Hermit's Facebook read: "It has come to my attention that some scallywag decided to attend all of the events at the Guild this past weekend and impersonate me, even going so far as to pose for pictures and buy drinks for groups of girls in some sort of pathetic attempt to gain the attention of, and subsequently woo the female population of Fab. What a misogynist. Don't be fooled ladies, the real Hermit would never stoop that low."
Now he's completed the challenge (UoB Library Hermit, not the Hermit Crab), all we can do is hope he has passed – watch this space.