A 61-year-old has been freed after getting his penis jammed in a pipe for two long days.
Firemen had to use cutting tools to saw the pipe off after doctors admitted they were unable to remove it.
Doctor Dewei Yuan said: "The member had swollen so much that there was nothing more we could do, and we had to ask for help." No sudden moves: Firecrews work to free Lian Tien from the pipe
Lian Tien, of Quanzhou City, China, endured four hours of sawing before he was released.
He somewhat improbably told Central European News: "It was hot so I was painting the wall in the nude, and I slipped on the floor causing my private parts to fall inside the pipe that was protruding from the wall to take water outside from the air conditioning unit.
"Unfortunately, I got stuck as a result.
"I thought that no-one would believe me and I tried everything I could think of to get the damned thing off once it had got stuck.
"I cut it from the wall and tried pouring oil and liquid soap down the sides but my manhood was so tightly wedged that nothing dripped down.
"I went to sleep thinking that if I relaxed it would slide off. But it didn't. It began to get red and inflamed. I was worried that I would get a terrible infection."
Lian was still too embarrassed to tell his family what had happened and only went to the doctor two days after the incident when he developed a fever, his son said.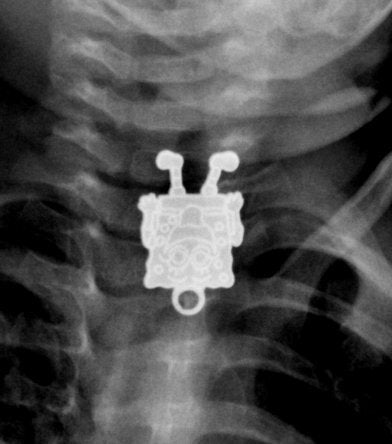 Wild X-Rays And Medical Photos
Related