If the message from London's Sexual Violence in Conflict global summit is that foreign women need protecting from rape, then we've got this all wrong.
That's the view of Nobel Peace Laureate Jody Williams, herself a victim of a sexual assault by a member of El Salvador death squad. "It can still come across as 'let's protect our women'. I don't want to be protected. I am creating my own vision of how society needs to be," she said.
Speaking to the Huffington Post UK at the four-day summit hosted by William Hague and Angelina Jolie, the veteran campaigner said the work being done by the 140 nations in attendance was "potentially excellent", but the West needed to look within itself as well as condemn the perpetrators abroad.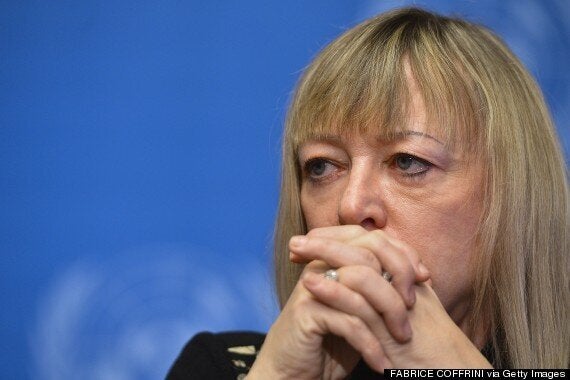 Nobel peace laureate Jody Williams
"One thing I don't like is the feeling of 'isn't this great that we can help those people over there suffering rape in war'," Williams, the founding coordinator of the International Campaign to Ban Landmines, said. "As if we aren't part of the problem. Look at the rape and violence within the US military. It is horrific."
The Salvadorian militant who raped Williams was part of a death squad that she says received funding and training from the US. "Look at how many armies were trained by Western forces," she said. "This happens because women are second-class citizens. As long as women are not taken seriously when it comes to security, peace negotiations, this will continue. Every government is supposed to have a plan to include women in peace negotiations. Less than a quarter of all countries signed up."
The discussions at the summit are "very high-level", she said, but activists will be the ones who are tasked with making the shift actually happen. "We create our own leaders. I don't have a lot of regard for highfalutin individuals, quite frankly, I don't care about titles. We listen to what they have to say, but if civil society does not push them, it is likely very little will happen.
"We can't wait around for them to come. We don't necessarily need a government leader. I think it's lovely that Angelina lends her celebrity but I don't like it when people confuse that with the need for a grass-root movement.
"The only way it can filter down into the mind of that soldier that commits that crime, is for women leaders to be part of his reality. It will happen. Not in my lifetime, maybe. But I will shake them up until I die."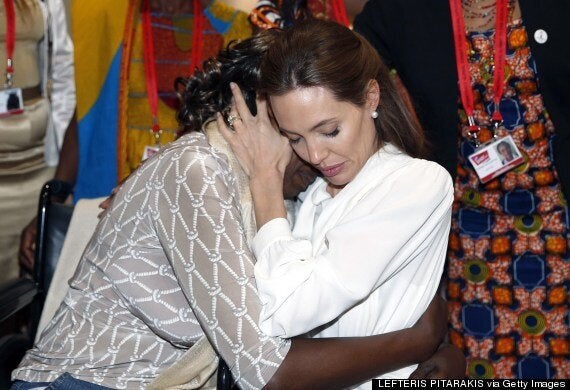 US actress and UN special envoy Angelina Jolie (R) embraces Neema Namadamu of the DRC
"When you speak about this issue, you watch the men in the audience who cringe," she added. "And we say to men, if you don't want to feel uncomfortable about it, get in the front line with us. You are part of the problem or the solution, it is about time men stand up and say, I don't condone this, I don't condone rape or the objectification of women.
On the second day of the summit Hague launched an international protocol which Jolie said she hopes will "really, truly end impunity" when it comes to sexual violence in conflict. The protocol - primarily a document outlining basic standards of best practice - offers guidance for those on the frontline who document sexual violence as an international crime. It also sets out how to protect victims, witnesses, interviews and information on sexual violence.
That impunity which rapists and molesters have enjoyed during times of war is something Williams knows. Working as a journalist and campaigner in El Salvador in the late nineties, she was raped at her hotel by a member of one of the country's death squads.
"They did and do have impunity. I didn't pursue the fellow," she said. |The police and the military were part of the death squads. They would take off their uniforms at night and go and torture people.
"I understood it as a political statement, it is the way you can most effectively threaten a woman."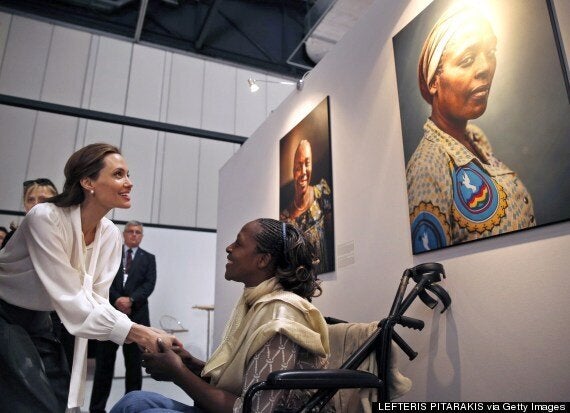 US actress and UN special envoy Angelina Jolie (L) talks with Neema Namadamu of the DRC
"It was an attempt to terrify me into leaving, and terrify my organisation," she continued. "Forget about it, we are not going anywhere. This is not about me. This is their cowardly way of trying to show power.
"The scary part was actually the next day, I was in a part of the city I had never been to before. A car pulled up, and it was him, leering out of the window and he said 'Wanna ride?' and then shot off. That was like, holy shit, they know where I am. That scared me more than the assault."
Speaking at the event today, Jolie said at the heart of her and Hague's campaign they are calling for an end to impunity.
"Perpetrators have to know that even during conflict, evidence is being collected and it will be used against them.
"They have to know that when peace agreements are made there will be no amnesty for rape," she said.
Related