Two teenagers died after falling from a block of flats while having sex on a balcony, witnesses say.
The 18-year-old man and 19-year-old woman died after what Scotland Yard said was a "tragic accident" shortly after midnight on Wednesday at Knights Tower in Wharf Street, Deptford, south London.
Locals said a party was taking place inside the sixth-floor flat at the time of the incident.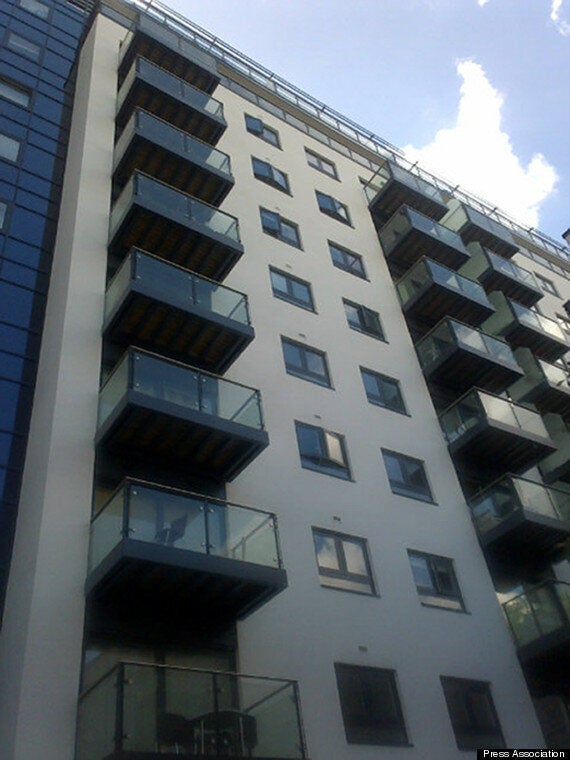 The teenagers are believed to have fallen from the sixth floor
Samson Oguntayo, 32, who lives in neighbouring Cornmill House, said he and his partner saw the couple fall.
He added: "They were trying to have sex on the balcony, the guy was lifting the girl and putting her on the bannister, he kept on doing it.
"He was putting her on there - they were going back and forth. You could see they were doing some really dangerous stuff.
"It is not the first time we have seen people on the balcony acting up.
"At some point friends must have come outside and they got down and came back inside and then came back out again. This time they started doing it again.
"You see people on the balcony doing all sorts of things and I just felt it was one of those things and in a moment they will probably go back inside.
"The last thing I expected was to see them falling down five floors. We just screamed."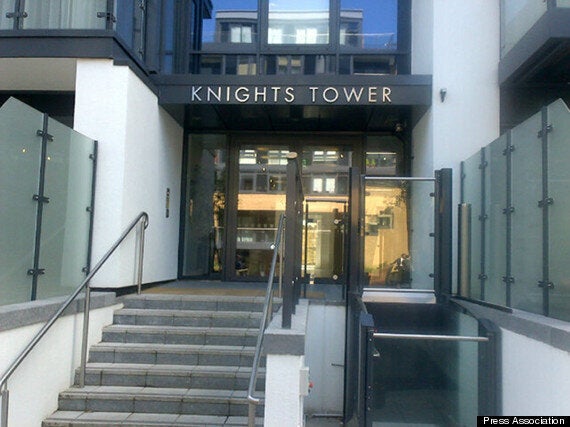 Bouquets of flowers have been placed at the foot of the tower
He said he ran down and jumped over a fence and discovered the couple in a pool of blood. He said it was believed there were around seven foreign students at the party.
Bouquets of flowers have been placed at the foot of the tower.
Detective Chief Superintendent Helen Millichap, the borough commander for Greenwich, said: "We believe this was a tragic accident involving two young people who were students attending a local college.
"We cannot release detailed information at the moment because we are still informing their families.
"We will work closely with the college to make sure any affected students receive information and support. Our thoughts are with the family and friends of these young people."
Another resident, who lives in the block opposite Knights Tower and did not want to be identified, said he saw a couple "frolicking" on the balcony last night.
"The occupants were inside, these two were on the balcony. We were shutting our blinds when we saw a couple on their balcony frolicking. They were kissing and stuff, she was telling him to get off her.
"We then shut our balcony."
He said less than 10 minutes later he heard a "bang".
His female partner, who also did not wish to be identified, said: "We thought someone had been shot."
He said a neighbour had witnessed the couple falling.
"She saw him lift her up and put her on the edge of the balcony. She said she had her arms around his neck and then he was stood against her, kissing her.
"Then she saw his legs stumble backwards - he stumbled backwards and she stumbled the other way. Then they both fell off."
The couple from opposite Knights Tower said they later comforted a woman called Daria outside the block, who was "hysterical" after the accident. Daria said she was the dead woman's best friend.
Police officers were called to the scene at 12.13am by paramedics who attended, Scotland Yard said.

Shradha Chaturvedi, 31, an auditor and resident of the second floor of Knights Tower, said she had heard a loud "boom", which she believed to be a firework at first.
"I heard a very, very loud noise and a lady screaming initially - I heard a boom and at first I thought a firework had gone off or something," she said.
"My husband came down and there were two other guys outside who were totally drunk. They said 'Don't go out there'. There was a woman out there who was crying."
Maureen Flynn, 22, a resident of a neighbouring block, said: "I did not see them fall but I saw their friends come out on to the balcony. They were crying, they did not know what had happened.
"I had to tell them 'Your friends are dead'."
Ellen Faulkner, 31, a resident of the nearby Canterbury House block, who gave birth to a baby boy four days ago, said the shock of hearing about the deaths had left her "shaking" last night.
"This is a new building, you don't expect anything like this to happen," she said.