The stifling Brazil heat has already ensured there will be drink intervals at the World Cup, yet several footballers could also be affected by Ramadan, the Islamic period of worship, during the finals when the contest enters the knockout phase.
Ramadan begins on 28 June, the day the first round-of-16 clash is staged, and runs until 27 July, well after the World Cup has ended. It could have a critical bearing on several countries' progress in the Brazilian humidity.
The practice, intended to teach Muslims "self-discipline, self-restraint and generosity" consists of fasting during daylight hours. Some Muslim footballers have sought permission to eat and drink during the period, however others are intent on adhering to the practice.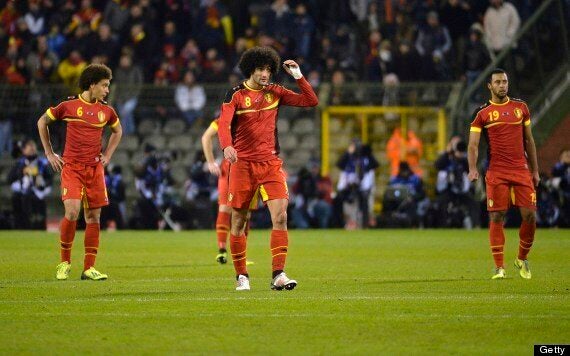 Belgium midfielders Marouane Fellaini and Mousa Dembélé are both Muslim
Ivory Coast's Muslim members include the Touré brothers, Yaya and Kolo, Roma winger Gervinho and Cheick Tioté. France's squad has Karim Benzema, Bacary Sagna, Mamadou Sakho and Moussa Sissoko, who are all practicing Muslims, while absentees Samir Nasri and Franck Ribéry are Muslim as well.
Other footballing Muslims include the majority of the Bosnia and Herzegovina squad, who will be spearheaded by Manchester City striker Edin Džeko, Switzerland forward Xherdan Shaqiri, Germany playmaker Mesut Özil and teammate Sami Khedira. Belgium's engine room could be run by Mousa Dembélé and Marouane Fellaini, who are also followers, as is Adnan Januzaj.
The majority of the aforementioned nations are expected to qualify for the knockout stage.
There is just just 11 hours of daylight in Rio de Janeiro, currently, however the timing of the observance is not ideal for national coaches. Kolo Touré, though, claims Ramadan makes him "feel even stronger. I think it's amazing how Ramadan can make you really strong."