Defending champions Audi are in a race against time to get their 2013 winners back on track for Le Mans qualifying on Thursday after a huge accident destroyed their #1 car.
The team's mechanics have worked through the night to completely rebuild the R18 e-tron quattro after Loic Duval lost control at the high speed Porsche Curves. Travelling at 168mph, the impact against the barriers completely wrecked the car and brought the practice session to a halt. Remarkably the Frenchman was unhurt although he was taken to hospital where he spent Wednesday night - the eve of his 32nd birthday - as a precaution.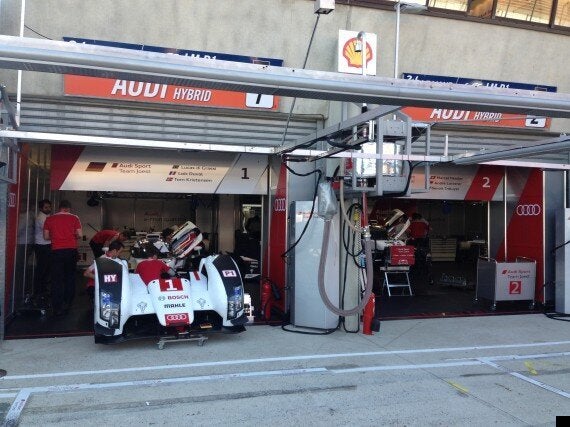 Audi mechanics working to get the wrecked car ready for Thursday qualifying
"The accident looked horrible," said Chris Reinke, Head of LMP at Audi Sport. "We're relieved to see that [Duval] is well, considering the circumstances."
Audi have spent the night and Thursday morning rebuilding the car and confirmed that Marc Gene would replace Duval, partnering Tom Kristensen and Lucas Di Grassi. The Spaniard has been part of the Audi Le Mans squad since 2011 and completed several track tests with the current Audi R18 e-tron quattro.
Qualifying on Thursday is from 1900-2100 and 2200-0000 and the car must be ready for the three drivers to run their mandatory laps at night in order to qualify for Saturday's race. However, many other drivers face the same task because of other accidents on Wednesday that brought an early end to first qualifying.
Porsche ended the day at the top of the times but the German team's drivers still expect more will be required on Thursday.
"In free practice we were working very hard and gathered a lot of data to improve the car," Timo Bernhard said. "Because of the red flags the first qualifying session was cut in half. I think it will be a tough fight in the remaining sessions."
His team-mate, former Formula 1 driver Mark Webber was happy with the car's performance, commenting: "We have made good progress with the car since free practice and I feel more comfortable in it than I did at the pre-test,
"I have had my first experience of driving at night at Le Mans for 15 years and I'm looking forward to getting more of this."