Samsung has launched a new range of tablets with (what it claims are) the "world's greatest screens".
Aimed directly at Apple's iPad Air and Retina Mini, the 'Tab S' comes in two sizes, and is designed to be deliberately reminiscent of the Galaxy S5 smartphone.
The Tab S is also Samsung's thinnest and lightest tablets to date, and come with a brand new football news app ('Kick') designed to put the gadgets at the heart of your 'two screen' World Cup watching set-up.
Samsung is pitching the devices principally as content consumption (i.e. video and photos) devices, claiming that its research says that's what most tablets are used for anyway.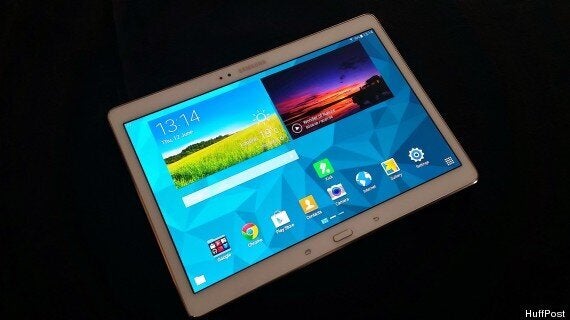 Patrick Povel, head of Samsung Tablet business development, said at a launch preview in London that the screens on the Tab S delivered 90% of the Adobe RGB colour range, versus the iPad's 70% coverage. They also have an 'adaptive' mode, designed to automatically optimise the display whether you're reading, watching movies or doing email in bright sunshine.
The result should be a brighter, more vibrant screen.
It added that its Note Pro and Tab Pro tablets announced earlier this year will remain on sale, as they are pitched more as productivity tools.
The key specs of the new devices are:
8.4-inch and 10.5-inch screens
2560 x 1600 WQXGA Super AMOLED panels
100,000: contrast ratio
6.6mm thin
Lightweight (294g / 465g) form factor
Exynos 5 Octacore processor
Android KitKat 4.4
3GB RAM
16/32GB memory plus MicroSD Card
4,900 mAh / 7,900 mAh battery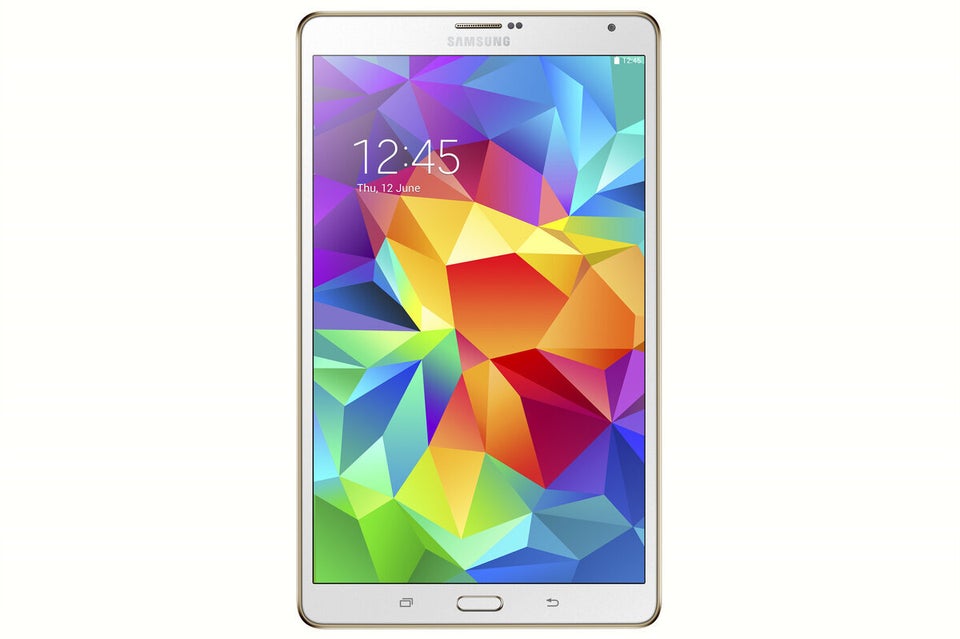 Samsung Galaxy Tab S
Samsung said the Tab S will be out on July 4 in the UK starting at £349 for the 8.4-inch and £449 for the 10.5-inch device.
They will come in two colours - white and 'titanium' grey.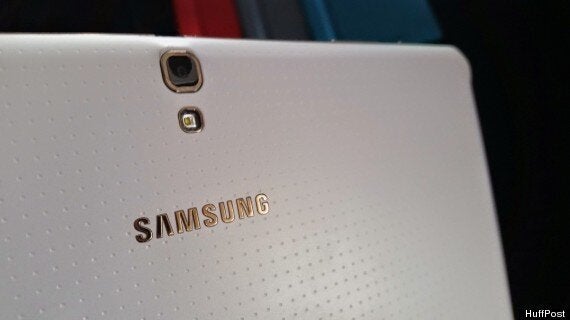 Other details include the fact that both devices have 16:10 ratio screens, which arguably are better for watching movies and TV than 4:3 ratio iPads.
The tablets also have unique 'hooks' on the rear case (more like small indents) to which its range of new 'origami'-style cases attach. They feature the same fingerprint sensor on the home button as the S5 smartphone, which automatically switches between different profiles to make it easier to share between family members.
The tablets also one with a new app called 'Kick', which is essentially Tweetdeck for football, collecting news and stats from football matches as they occur and allowing you to share insights with your friends on social media.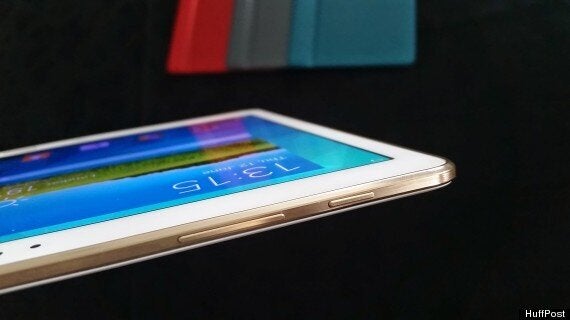 HANDS ON: Samsung Galaxy Tab S

The Samsung Galaxy Tab S range is a high-end, premium assault on the iPad Retina Mini and iPad Air. In person both the 8.4- and 10.5-inch versions are impressive devices.

Most obviously, they really do feature some of the best -- if not the best -- screens we've ever seen on a tablet device. They are extremely bright, colourful and rich panels, and while the cliches flow easily in descriptions like this ("the blacks are deep, the reds pop", blah blah) let's just say they are noticeably excellent. We'd need more time with it to compare directly to Apple's machines, but at first glance they match up favourably.

The downside is that while the tablets are also very thin and light, they feature weedy speakers -- meaning watch a movie on them is still going to be less than ideal without some kind of external speaker.

The design of the devices is also going to prove just as divisive as the Galaxy S5, since both look and feel exactly like giant versions of Samsung's recent flagship smartphone. They have the same colours, popped leather-like back and metallic plastic sides, and if you're not a fan of the S5 then you'll probably fall out of love with them quickly. And vice versa.

Otherwise, there's not a huge amount to remark on, given that this are principally pitched as tablets to hold and watch things on. They feature great processors, a fingerprint scanner, some generous 'Galaxy Gift' freebie app subscriptions, a full range of accessories and cases and some neat software features including Side Sync, which lets you use your phone from the tablet.

But compared to the pared-down elegance and app superiority of the iPad, the cheap Nexus 7 and the waterproof Z2, it's hard to think of too many features other than the screen that the Tab S has to shout about. We'll have to wait and see if the super-screens on which Samsung has hung its hat this time around are good enough to justify switching from the all-conquering iPad.