Kazuki Nakajima made Le Mans history when he took pole position for this weekend's 24 Hours but did not realise what he had done until the messages started flooding in.
The Toyota driver set a time of 3m21.789s early in Qualifying Practice 3 to become the first Japanese driver to claim top spot on the grid for the twice-round-the-clock endurance race.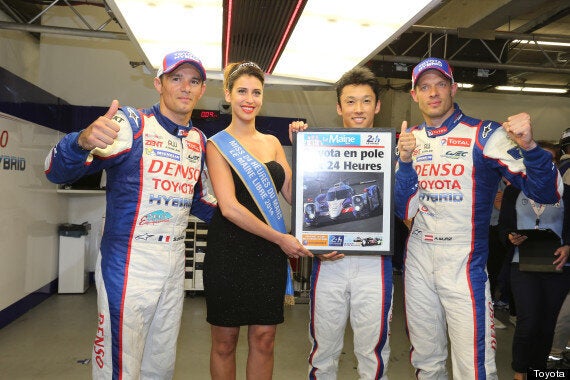 Kazuki Nakajima celebrates pole position with team-mates Stephane Sarrazin (l) and Alexander Wurz (r)
"I didn't feel so much after qualifying but in the morning I found out," Nakajima told The Huffington Post UK. "There was a lot of reaction from the people in Japan and I got so many messages from friends. It's good to write some history but hopefully there's bigger to come."
All four practice and qualifiying periods over Wednesday and Thursday had been disrupted by accidents and red flags and the final quarter of an hour of QP3 was run under yellow, which meant Nakajima's earlier benchmarker would not be surpassed.
"Qualifying was very frustrating to have a lot of red flags and to have the slow zone. I hope there will be less issues in the race, but you just never know," he told HuffPost.
Nakajima and Sebastien Buemi had taken the wheels of the two TS040 Hybrids for the start of final qualifying, which was extended by 30 minutes due to red flags, and immediately set better lap times than in either earlier sessions.
"I think I could have been even faster but there is always something because the track is so long," he added.
"I was expecting at least one of the Audis to be up there in the end but because of the slow zone that didn't happen, so it was kind of luck as well but at the same time I do think the best time to set a pole lap was at the beginning of Q3 because we had more visibility and the right tyres."
Looking ahead to the race on Saturday, Nakajima was confident the Toyota was in good shape. "The car is now set up just how we want it. We have been in the ball park all the time, fine tuning it little by little and at end of qualifying we were there."
Meanwhile, Toyota technical director Pascal Vasselon has dismissed another team's complaints of brake irregularities as 'games' after the FIA was asked to clarify the legalities of the TS040's system.
"We have read the regulations.Frankly some others need an explanation," Vasselon said.