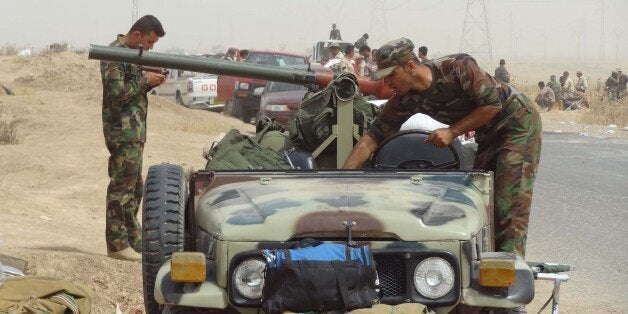 Here are the five things you need to know on Friday 13 June 2014...
Back in 2006, the influential US diplomat and veteran Iraq expert Peter Galbraith proposed a plan for 'saving Iraq' by having the United States "split Iraq into separate Kurdish, Sunni and Shi'ite states".
Today, eight years later, Iraq looks like it is on the verge of such a split - but brought about by civil war and the rise of the jihadist group, Isis, rather than by American occupation, design or execution. From the Times:
"Iraq moved closer to breaking up along sectarian lines yesterday as Sunni jihadists vowed to take their battle into the Shia heartlands beyond Baghdad, while Kurdish fighters took control of the oil-rich city of Kirkuk in the north. Kurdish fighters entered Kirkuk, which they have long claimed as their own, without resistance yesterday after government forces abandoned their posts. It was the latest in a series of collapses that leave Baghdad with virtually no control in the country's north. At the same time, the militants of the Islamic State of Iraq and al-Sham (Isis) vowed to continue their march to the capital and on to the twin Shia holy cities of Karbala and Najaf in their drive to create a new Sunni state spanning two countries on the embers of the old colonial map of the Middle East."
There are reports that Iranian troops have already crossed the border to bolster Iraq's demoralised and depleted armed forces. Meanwhile, as the Express reports: "Foreign Secretary William Hague ruled out [UK] military intervention and said it was up to Iraq's leadership to deal with the deteriorating military situation."
Whether or not the autocratic yet beleaguered administration of (Shia) Prime Minister Maliki can handle threat from the (Sunni) Islamist fighters of Isis remains to be seen - and could yet determine not just the future borders of Iraq, but of the wider Middle East.
"Nigel Farage broke electoral law in failing to declare donations worth £200,000 during a period of 14 years, the independent politics watchdog said yesterday. The Ukip leader faces a maximum fine of £20,000 or up to a year in jail if the Electoral Commission decides to refer the case for criminal prosecution and Mr Farage is convicted. Its investigation was prompted when The Times revealed in April that Mr Farage had been given a constituency office near Littlehampton, West Sussex, rent-free since 2001, shortly after he became an MEP."
Sadiq Khan, Labour's shadow justice secretary and close ally of Ed Miliband, has done an wide-ranging interview with me - on his leadership of London's successful campaign in London; on the rise of racial inequality and the possibility of all-BME shortlists; on how Labour might be willing to do a deal with Nick Clegg in the event of another hung parliament.
He also calls on unnamed shadow cabinet ministers who have complained that the recent election campaign was too 'Ed-centric' to "pull their weight" and says Labour can only win the general election if it is more, not less, "bold" and "radical".
You can read the full interview here.
BECAUSE YOU'VE READ THIS FAR...
"Mark Carney warned households, companies and financial markets to prepare for an interest rate rise, saying the first increase 'could happen sooner than markets currently expect'. In his first hawkish comments since becoming governor of the Bank of England almost a year ago, Mr Carney stressed last night that the widely anticipated action by the central bank this month to cool the housing market would not be a substitute for gradual interest rate rises. Having last year guided people to expect rates to stay at the emergency level of 0.5 per cent until 2016, financial markets currently expect the first rise in spring 2015. The governor's Mansion House speech is bound to bring expectations further forward, perhaps towards the end of this year."
On BBC1's Question Time last night, former Respect leader Salma Yaqoob was on fine form, taking on the rest of the panel over claims of 'extremism' in Birmingham schools and dismissing Iain Duncan Smith, the Work and Pensions Secretary, sitting directly next to her, of being a 'scrounger' over his parliamentary expenses. You can watch the video here.
From today's Sun/YouGov poll:
That would give Labour a majority of 76.
David Cameron, writing in the Irish Times, says: "'Invented' process to appoint President of European Commission is damaging to democracy."
John McTernan, writing in the Guardian, says: "We had to topple Saddam – now let's go back to Iraq to rescue democracy."
Fraser Nelson, writing in the Telegraph, says: "George Osborne wouldn't like to admit it, but the Tories are really milking the rich."
Got something you want to share? Please send any stories/tips/quotes/pix/plugs/gossip to Mehdi Hasan (mehdi.hasan@huffingtonpost.com), Ned Simons (ned.simons@huffingtonpost.com) or Asa Bennett (asa.bennett@huffingtonpost.com). You can also follow us on Twitter: @mehdirhasan, @nedsimons, @asabenn and @huffpostukpol