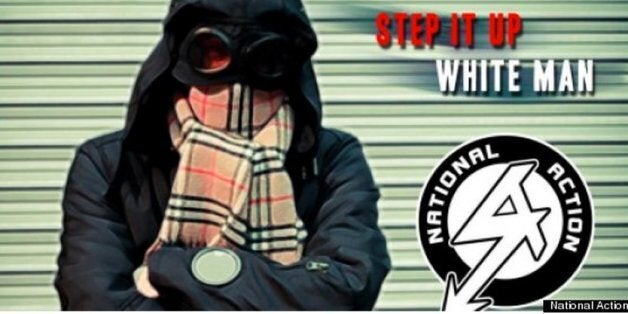 Hundreds of Warwick University students gathered together on Thursday to protest against a neo-Nazi group that believes "there is no legitimate reason not to be a racist".
The demo, organised by Warwick's Anti Racism Society, saw more than 200 students chant, march, and speak out against the far-right National Action group. They were backed by Unison, NUT, and other organisations.
Socialism appeared to be the word of the day, with speaker Dan Crowter, member of the Socialist Party and National Union of Teachers, calling for a united fight for decent jobs, homes and education. Kristian O'Sullivan, President of Coventry Socialist Students, who spoke of the necessity to beat fascism, joined him.
The group has been spotted at universities across the country, but its 'action' has been so far limited to a rather dry stunt that involved placing a banana on a statue of Nelson Mandela, and putting a few stickers up around campus.
The Warwick Anti-Racism Society sees National Action as a threat on campus, and organised the demo to show that fascism in any form would not be tolerated at the university. One attendee described the event as "inspiring and uplifting".
Another added: "Yesterday was incredible. Congratulations and thank you to everybody who organised, it was so well represented and the speeches were so good. I was proud to be standing there with you all."
The claims of Alex Davies, leader of National Action and first year Warwick student, that National Action is "like the BNP, but more radical" are no doubt disconcerting.
The Facebook page for the demonstration speaks on behalf of the entire student body, stating that it "does not stand for fascism, racism, anti-semitism, sexism, homophobia, transphobia or albeism."
This year so far has seen a noticeable rise of extreme right wing groups and splinter groups, from Britain First to the BNP Youth, all of which have attracted differing levels of attention: both support and concern.
But the Warwick demonstration appears to be the first step in student-led combatting of radical right-wing politics.
A spokesperson for the university said: "The University has been actively examining allegations made in a national newspaper about the activity of a Warwick student which, if true, would be in breach of the University's dignity at work and study policy.
"The student has confirmed that the substance of the allegations is true and he has asked to permanently withdraw from the University with immediate effect, and his withdrawal is now being actioned."
Popular in the Community