The consequences of a victory for extremist insurgents in Iraq are so "potentially catastrophic" that the possibility of sending British troops should not be ruled out, former defence secretary Liam Fox said.
Dr Fox said he understood the "extreme reluctance" of the UK and America to put western boots back on the ground but argued the option should stay on the table.
Iraqi security forces had been "pretty pathetic" in their response so far, he said, and it "remains to be seen" whether the country's prime minister Nouri al-Maliki could lead an effective response. Iraqi Shiite tribal fighters deploy with their weapons while chanting slogans against the al-Qaida inspired Islamic State of Iraq and the Levant
If that proved impossible, then western intervention would become irresistible, the Tory MP suggested.
London and Washington have ruled out putting troops on the ground as part of the response to the bloody territory grab by jihadists who have seized control of several key towns, including the second city, Mosul.
"There will be an extreme reluctance by any Western governments to do so but I don't think at the moment, given the potential consequences of Isis (Islamic State of Iraq and the Levant) success, that anything can be ruled out at this stage," Dr Fox told BBC2's Newsnight.
"The question in the coming days will be whether Maliki can rise up as a statesman at this late stage, whether the Iraqi military - given all the investment that has been made in their equipment and training - can fight back.
"That remains to be seen and then I think this situation will have to be watched very closely by the international community because the price of failure ... to confront and defeat Isis could be catastrophic and felt well beyond the region."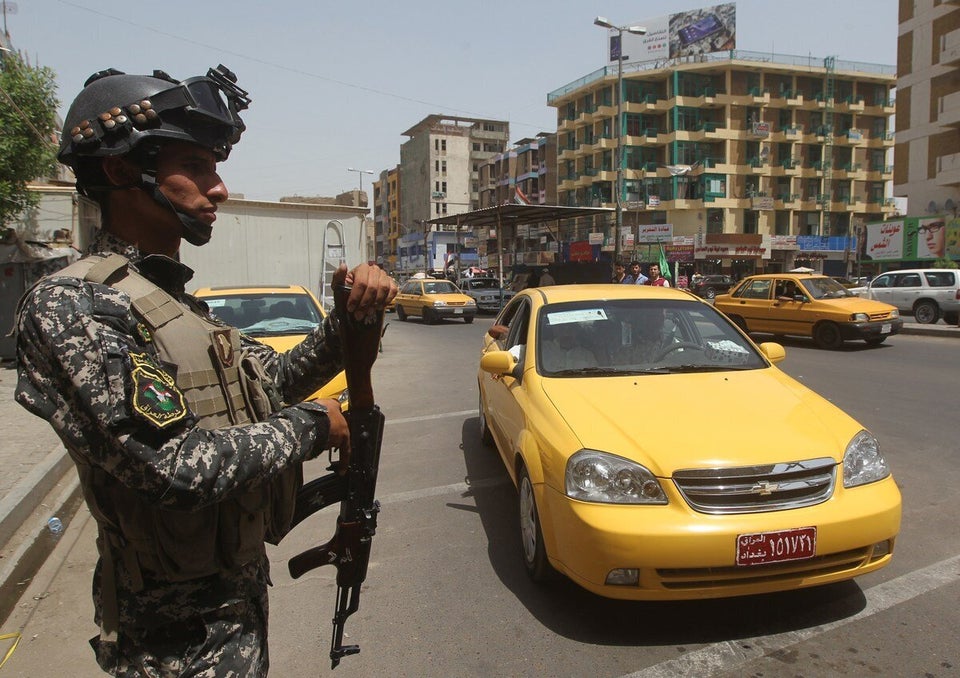 Iraq's growing crisis
He added: "I do agree that it does look as though the Iraqi government are beginning some sort of fightback, notwithstanding the pretty pathetic efforts of their forces so far.
"We have seen them in the past being able to take on insurgents and they will hopefully be able to do so again."
He said al-Maliki was "paying the price" for refusing to sign a status of forces agreement when Barack Obama withdrew American troops in 2011 - meaning none were able to stay to continue training and equipping Iraqi forces.
Britain and the US are considering what help to offer Iraq in dealing with a bloody insurgency by jihadist militants but have warned the country's leaders they must make "serious" efforts to resolve sectarian tensions.
Obama joined the UK in ruling out any return for ground troops but indicated he was considering a range of military options - thought to include air strikes - to boost Baghdad's efforts to counter the insurgents' drive.
Foreign Secretary William Hague said the Government might offer counter-terrorism expertise to the Iraqi government.
Obama warned the sweeping advance of fighters from the al Qaida-inspired Islamic State of Iraq and the Levant (Isis) could eventually pose a threat to US and other interests.
But, as the surge saw two towns north-east of the capital Baghdad fall to the control of the extremists, who have already taken large areas of Iraq's Sunni heartland including the cities of Mosul and Tikrit, he said the situation must act as a "wake-up call" for Iraq's leaders.
Al-Maliki has been widely criticised for fuelling the sectarian divide in Iraq by openly favouring the majority Shia population at the expense of the Sunnis. Iraq's top Shia cleric has issued a call to Iraqis to do their "duty" to fight the insurgency amid reports of atrocities being committed by Isis.
UN high commissioner for human rights Navi Pillay issued a warning about reports of war crimes, including summary executions and extrajudicial killings.
The crisis in Iraq is also expected to dominate a meeting of the National Security Council chaired by Prime Minister David Cameron next week.
Obama said he would consider over the coming days a "range of other options" drawn up by military chiefs short of sending ground forces back to the country they withdrew from in 2011.
He added: "Any action that we may take to provide assistance to Iraqi security forces has to be joined by a serious and sincere effort by Iraq's leaders to set aside sectarian differences, to promote stability and account for the legitimate interests of all of Iraq's communities and to continue to build the capacity of an effective security force.
"We can't do it for them and in the absence of this type of political effort, short-term military action, including any assistance we might provide, won't succeed.
"So this should be a wake-up call: Iraq's leaders have to demonstrate a willingness to make hard decisions and compromises in order to bring the country together."
"We are not going to allow ourselves to be dragged back into a situation in which, while we are there, we are keeping a lid on things and, after enormous sacrifices by us, as soon as we are not there suddenly people start acting in ways that are not conducive to the long-term stability and prosperity of the country," he added.
Speaking after talks on Iraq with US secretary of state John Kerry in London, Hague said Britain's three priorities were
to see Iraqi security services stabilise the situation, for Iraq's leaders to show "a united response to this brutal aggression" and urgent help for those fleeing the violence.
A team from the Department for International Development is in northern Iraq to see what humanitarian help the UK can offer.
"We will also continue to work urgently within the UN Security Council to help concert the wider international response," he said.
Related