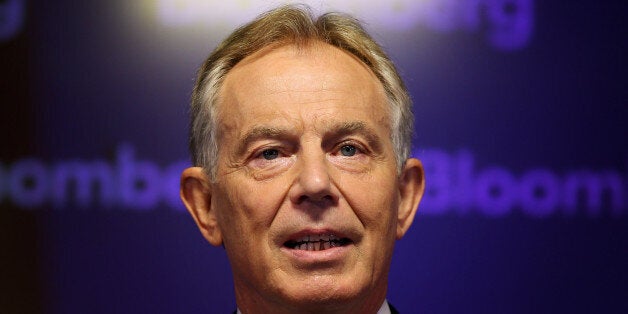 Here are the five things you need to know on Monday 16 June 2014...
1) BLAIR IS BONKERS, SAYS BORIS
The former PM appeared on BBC1's Andrew Marr programme yesterday and called for aerial attacks to assist in the Iraqi government's battle with the violent Islamist insurgents of Isis. "It is vitally important that we realise what is at stake here and act," Blair told Marr, adding: "The best policy for us is to realise that whatever form of intervention we choose it's going to be difficult. But it's better than the alternative which is to stick and as we see from Syria the appalling results of such a policy."
Blair was speaking after publishing a 2,800-word essay on his website in which he deployed what I call 'The Shaggy Defence' - that is, 'It wasn't me!'. He argued that we have to "to liberate ourselves from the notion that 'we' have caused this" and claimed it was "bizarre" to suggest the current situation in Iraq was a consequence of the Anglo-American invasion of 2003 (despite the fact that there weren't any Al Qaeda-linked jihadists in Iraq before we attacked!). Former cabinet colleagues John Prescott ("I don't agree with Tony, as I didn't then") and Clare Short ("He's absolutely consistently wrong, wrong, wrong") both popped up on Sky News yesterday to dismiss Blair's line of argument.
Forget Short and Prescott, though - regular readers of this Memo will know that I am not the biggest fan of the views of Boris Johnson but the mayor of London's column in today's Telegraph on Tony Blair and his "chain of bonkers assertions" on Iraq is worth a read.
Johnson opens his column with: "I have come to the conclusion that Tony Blair has finally gone mad. He wrote an essay on his website on Sunday.. that struck me as unhinged in its refusal to face facts. In discussing the disaster of modern Iraq he made assertions that are so jaw-droppingly and breathtakingly at variance with reality that he surely needs professional psychiatric help."
He continues: "The reality is that before the US-led invasion of Iraq in 2003, there was no al‑Qaeda presence in that country, none at all.. The truth is that we destroyed the institutions of authority in Iraq without having the foggiest idea what would come next. As one senior British general has put it to me, 'we snipped the spinal cord' without any plan to replace it.. That is the truth, and it is time Tony Blair accepted it."
He concludes: "Somebody needs to get on to Tony Blair and tell him to put a sock in it – or at least to accept the reality of the disaster he helped to engender. Then he might be worth hearing. The truth shall set you free, Tony."
2) 'A SPHINX WITHOUT A RIDDLE'
That, believe it or not, is how a former adviser to Michael Gove has described Gove's boss, the prime minister. Yes, Dominic Cummings, who worked as a spad for Gove for six years, is on the warpath against the PM and the Times splash has the details:
"David Cameron repeatedly held up school reforms and has failed to prioritise education, Michael Gove's closest ally has said. Dominic Cummings accused Mr Cameron of preventing more radical change and attacked him for lacking a wider strategy for what he wanted to achieve in government. He called the prime minister 'a sphinx without a riddle' who was surrounded by sycophants and whose staff tried to stop or delay many of Mr Gove's policy changes."
He savaged, in particular, the prime minister's chief-of-staff, Ed Llewellyn, calling him a "classic third-rate suck-upkick-down sycophant presiding over a shambolic court".
Wow. The Guardian notes that, in 2010, Cummings' "appointment as a government adviser was blocked by Andy Coulson, director of communications, on the basis that he might be too independent and too a disruptive force. However, Gove continued to rely on him from a distance and, when Coulson resigned, he appointed him". I guess Coulson didn't get every judgement wrong...
3) PUNCHING BELOW OUR WEIGHT?
Can we actually even afford to intervene in foreign faraway conflicts? From the FT front page:
"Britain's defence spending will soon fall below the target set by Nato, according to an analysis commissioned by senior military personnel. Figures drawn up by an independent consultancy and seen by the Financial Times show the UK's military expenditure will hit 1.9 per cent of the size of the country's economy by 2017, below Nato's target of 2 per cent. The analysis has been commissioned from within the British armed forces and will be used to bolster the case made by many of their senior members that cuts in the defence budget will endanger the close UK-US military partnership."
BECAUSE YOU'VE READ THIS FAR...
Watch this video of a dog that doesn't like leaf blowers. You know you want to.
4) BIG BROTHER IS WATCHING.. THE GREENS!
More outrageous revelations involving the police and covert surveillance in (where else?) the Guardian:
"Two Green party politicians, including its candidate for mayor of London at the last election, have criticised police chiefs who recorded their political activities on a secret database that was set up to track campaigners deemed to be 'domestic extremists'. Neither politician has a criminal record. Official files show that the police kept a log of the political movements of Jenny Jones, a London assembly member and peer, over an 11-year period while she sat on the official committee scrutinising the Metropolitan police and stood to be London's mayor.. Jones and Ian Driver, who is a local councillor for the Green party in Thanet, Kent, have objected to the monitoring and have signed witness statements to support a lawsuit, to be heard later this year in the supreme court, which seeks to curb the clandestine database."
Does the beleaguered Leader of the Opposition need a new comms team? From the Times:
"Many members of the shadow cabinet are worried about Ed Miliband's team of advisers, a senior MP said yesterday as the Labour leader came under renewed attack over his decision to be pictured with a copy of The Sun. Tom Watson, the Labour MP for West Bromwich East and Mr Miliband's former election co-ordinator, said that posing for a special edition of the newspaper was a 'serious mistake' that had done 'a lot of damage' to the party's base. MORE HERE.
The Guardian headline sums up the bluntness of Watson's message: "End blunders or resign, Labour's Tom Watson tells Miliband press aides."
Meanwhile, the Sun reports: "Tory bosses are building up a £30MILLION election war-chest to keep Ed Miliband out of Number 10, The Sun can reveal."
" I don't remember anyone saying the moon wasn't real, or that it was made of cheese." - Barack Obama compares climate change deniers to people who think the moon is 'made of cheese'.
From yesterday's Sunday Times/YouGov poll:
That would give Labour a majority of 44.
Chris Huhne, writing in the Guardian, says: "Tony Blair was only unstoppable because of a democratic flaw."
Robert Fisk, writing in the Independent, says: "Now we see how [Blair's] doctrine turns enemies into 'allies'."
Ian Birrell, writing in the Independent, says: "Tony Blair has moved beyond parody in his latest attempt to absolve himself."
Got something you want to share? Please send any stories/tips/quotes/pix/plugs/gossip to Mehdi Hasan (mehdi.hasan@huffingtonpost.com), Ned Simons (ned.simons@huffingtonpost.com) or Asa Bennett (asa.bennett@huffingtonpost.com). You can also follow us on Twitter: @mehdirhasan, @nedsimons, @asabenn and @huffpostukpol
Popular in the Community