As dawn began to break, Benoit Treluyer, Marcel Fassler and Andre Lotterer could only watch as mechanics worked on their #2 Audi R18 e-tron quattro in the pits to replace the broken turbo while the sister #1 Audi clawed back a three-lap deficit. By the time the #2 was back out, it was two laps down.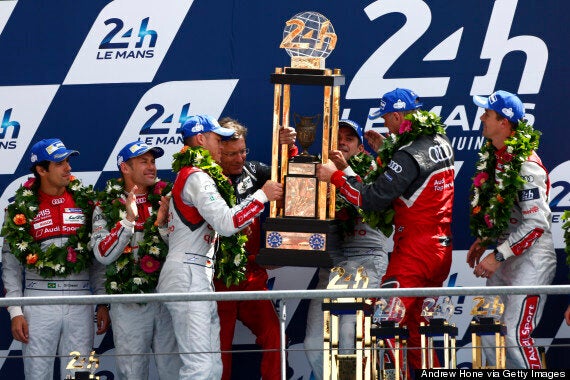 Audi celebrate on the podium after a drama-filled Le Mans 24 Hours
"When we had the turbo problem we were very disappointed because it's impossible to come back from that," Lotterer said, adding: "We were a bit unlucky, but at Le Mans you never know what is going to happen."
Fassler also thought their chance had gone.
"When we had the problem with the turbo - if you lose five laps it's impossible to get them back," he said.
Treluyer added the atmosphere between the two sets of drivers was always positive.
"When car #1' was running in front we were sure they''d make it. ''It''s your turn to win the trophy',' we said to them. When they got problems, Tom said 'now it's your turn'."
Team boss Dr Wolfgang Ullrich, who has presided over all 13 of Audi's Le Mans victories in 15 races, admitted the team had been caught unawares by the failure of the turbos, particularly as Audi had raced and won with them before.
"When the turbos broke, it was a surprise, we'd never had problems with them before and then two hours after the first one, we had the same signs and same problems on the second car."
Dr Ullrich added that Audi had to adopt a different strategy this year because the R18s were not fastest over a single lap.
"Perhaps it was a small miracle today. The result was a lot of hard work but Lady Luck did smile on us as well."