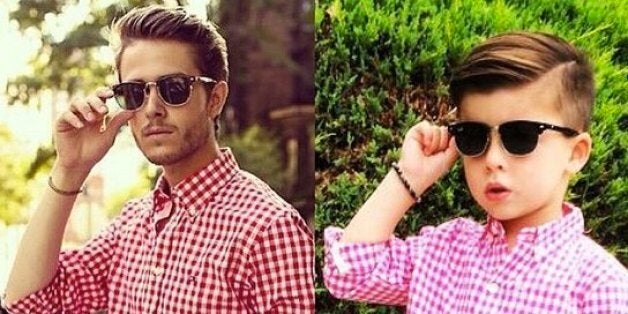 "I thought it would be fun to 'hack' the style of men in fashion and show other parents how they could do the same," explains Ryker's mum Collette on Mini Style Hacker's website. And she's not wrong...
Mini Style Hacker's repertoire doesn't just cover nameless models, however. It also includes James Franco:
Ryker isn't, Collette insists, a model or an actor. "He is a regular kid who does regular kid things," she says. "I am able to get him to 'pose' by making it fun for him. We use our imaginations a ton and have a great time while doing so.
"If you see him with his hands in his pockets, he is holstering his imaginary laser guns. If you see him leaning against a wall, he is trying to push it over with his body weight. If your child hates having their picture taken, give imaginative play a try!"
We certainly will, Collette. In fact, we're so camera-shy ourselves that we might just have to give it a go next time we're asked to pose for a photo...