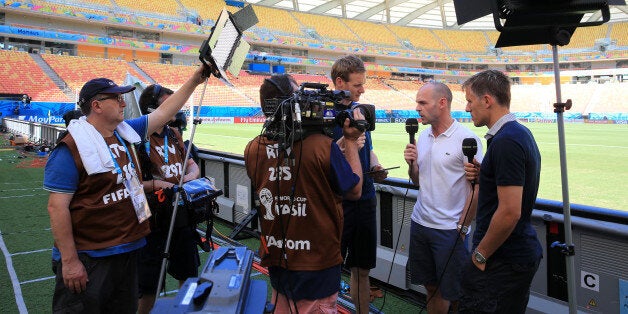 Almost all of the 32 teams have played at the World Cup, and viewers have vociferously rated the BBC and ITV's coverage on a daily basis. Much like the nations in Brazil, the corporations' build-up, line-up and performances are scrutinised in minute detail, with daily critiques and merciless post-mortems charting their downfall.
Roy Hodgson should be grateful after England's opening defeat was offset by a nation's outrage over Phil Neville's commentating, with one zinger likening his voice to a "Sat Nav to Dignitas" while goal-line technology befuddled his Beeb colleague, Jonathan Pearce, and the ITV studio was pelted with stones. The pundits and presenters are generating more opprobrium than the players.
The BBC, despite Neville's soporific tone, have finally got their act together, though. Match of the Day has generated criticism on a weekly basis since punters discovered Twitter and even with the unceremonious dumping of the egregious Colin Murray, its punditry rotation last season remained as resolutely ineffective as Wayne Rooney on the left wing.
The squad rotation at the World Cup, though, has been seamless. Rio Ferdinand's internet persona does him little favours, yet he has excelled alongside the chippy yet passionate Thierry Henry and the erudite Clarence Seedorf. Neville seemed much more comfortable in the studio, rather than the gantry, Neil Lennon is sincere and Gary Lineker is more engaging in unfamiliar company. Even Alan Shearer has been more forthright.
Neville was a curious choice to preside over England's defeat to Italy. Just because his brother provides excellent analysis does not mean it is genetic, and both the BBC and ITV's co-commentators are struggling. The ubiquitous Andy Townsend is reliably awful, Clarke Carlisle's IQ cannot compensate for mistaking Jackson Martínez for an Ecuadorian and Robbie Savage, with his faux outrage, is just as incongruous a presence.
The BBC see the funny side, too. Savage, a League Cup winner, was hilariously sat beside a three-times European Cup winner and World Cup and European Championship winner in Seedorf and Henry for France's win against Honduras. Like The Usual Suspects' line-up, he was the limp inclusion, only it wasn't an act.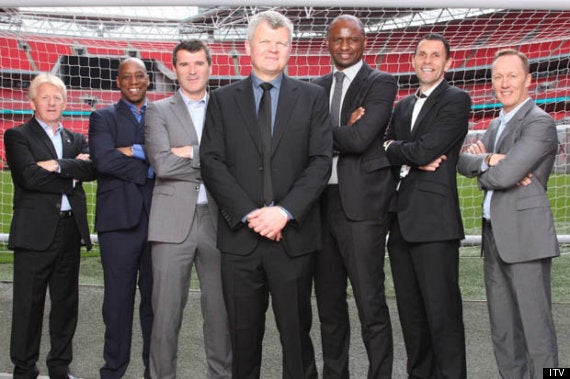 Roy Keane was in the squad photo, but ITV are missing the Irishman in Brazil
Mark Lawrenson is back too after the Beeb relegated him to Match of the Day 2 duty and is still insufferably miserable, having the temerity to complain about watching Lionel Messi in the Maracanã. During an exchange with commentator Steve Wilson, he struggled to remember Maxi Rodríguez's stunning volley against Mexico in 2006. Nothing especially out of the ordinary, except Lawrenson was at the game with Wilson. Send him home.
ITV, like Ireland in 2002, are reeling from Roy Keane's absence. Marquee man Fabio Cannavaro's English is decent, but not adequate enough to flourish as a pundit, Gus Poyet treats questions as if they are post-match queries and Glenn Hoddle, occasionally perceptive, has demonstrated why no club has employed him as a manager in seven years. Adrian Chiles is about as popular as Tom Cleverley, but he does at least spark a conversation and inject energy into proceedings.
ITV do have the supremely talented Gabriel Clarke, whose reports and packages from the England camp are as captivating as some of the documentaries he has produced. The BBC are reliant on the hollow tax evader Gabby Logan to update the nation on the Three Lions, yet her delivery is toothless and impassive.
Then there is Ian Wright, who complained the BBC treated him like a "court jester" when he quit in 2008 yet fulfils that role for ITV. Some tweeters have mistaken him for Dizzee Rascal, although Dizzee might be more coherent.