The Amazon Fire Phone has been unveiled at an event in Seattle are the key details followed by our detailed impressions.
This is Amazon's first phone, it's a 4.7-inch premium phone that features a powerful camera, full access to Amazon's media services like Instant Video, Kindle Books and Amazon Music.
One of it's biggest features is the Dynamic Perspective display which uses cameras on the front of the phone to analyse the direction you're looking, thus changing the image on the screen giving a virtual 3D effect.
The 3D effect display affects everything from images taken on the 13MP camera to browsing maps and reading books, letting you scroll, change the angle and virtually look around objects that are on the screen.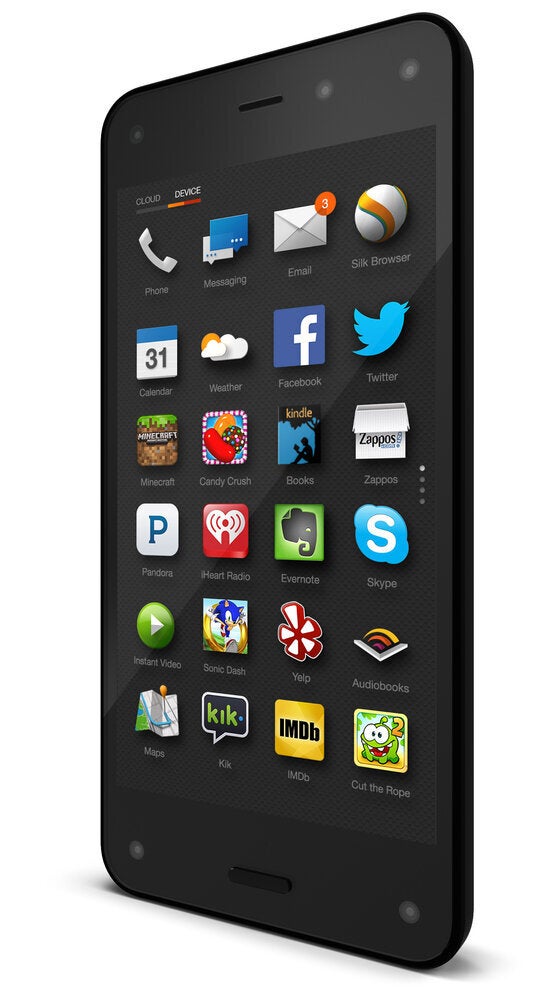 Amazon Fire Phone
What are its most interesting features?
The biggest news to be announced is Dynamic Perspective: a system which uses four 120-degree wide-angle cameras to constantly monitor the position of your head creating virtual 3D effect.
Affecting everything from maps to games, Dynamic Perspective lets you look around images, explore maps and view games just by moving your head.
Amazon is making this feature a BIG deal, which is understandable really when you think that each camera is having to analyse a different owner and with no two human beings being the same they've had to come up with some pretty complex software the make it work.
Unsurprisingly the other key theme here is consumption, so the Fire phone features deep integration with all of Amazon's services including Prime Instant Video with IMDB X-ray which gives you real-time info of what's on the screen.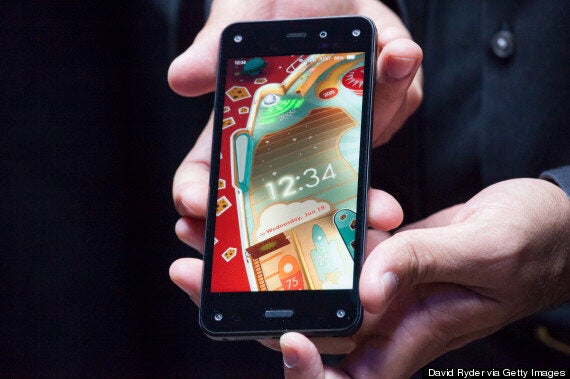 Music is catered for as well with over a million songs on Amazon Music and of course there's the Kindle book store which uses Dynamic Perspective to scroll through pages just by tilting the phone.
To help with all that consumption Amazon is including a new app called FireFly which uses the camera and the microphone to recognize literally anything from music, to TV shows and even a type of wine if you have the label. It should come as no surprise that Firefly will then give you options on how to buy that product via Amazon.
Amazon's really trying to offer a complete package in the box that can beat the likes of Samsung's Galaxy S5 and the iPhone so you'll get premium tangle-free, magnetic coupling earbuds as standard.
The Fire also features the same Amazon-controlled version of Google's Android which means that just like the Kindle Fire you'll be using Amazon's App Store so no access to Google apps like Gmail, YouTube and Google Maps. 4.7-inch HD IPS LCD Display with Dynamic Perspective
Quad-core 2.2GHz processor with 2GB RAM
Dual-speakers with Dolby Digital
13MP f/2.0 camera with IOS
Amazon Firefly – Instant product recognition using camera
Mayday – Live video customer help, 24/7 15sec waiting time and free
When is it out in the UK?
Well at the moment the Fire Phone is an AT&T exclusive and there's no word on a UK release date, which make sense considering one of its key services - Amazon Music - also isn't available in the UK yet.
No word on a UK price but in the US it'll be launching for $199 straight up with a $27 per month two year contract.
Where can I get more information? Amazon Fire Phone: So what just happened?
Amazon just unveiled its first phone and as expected it has come sporting a far more advanced version of the 'Parallax Effect' found on the iPhone. By using four wide-angle cameras the phone knows exactly what you're looking at on the screen adjusting to give a 3D effect.
So there's the first clincher: It's not real 3D, but it's pretty damn smart nevertheless.
The next big thing to note is that Amazon has made no mention about apps. Yes it'll feature the Amazon App Store but both in the US and the UK it's lacking apps that many would call essential: WhatsApp, Snapchat, Instagram, Gmail, Google Maps and YouTube.
That's right, no Google Apps at all. Instead Amazon is hoping you'll be so won over by their own offering that you won't miss them. This of course will remain to be seen.
Now for the next bit of bad news: It's not launching in the UK, yet. Instead it's US-only for now.
Our general thoughts are pretty mixed, the lack of apps is a real negative, we've seen what it did to BlackBerry and Windows (more BlackBerry) and the results weren't pretty. Amazon is clearly hoping that its services and special features will be enough to make customers overlook that fact.
The integration of Amazon services seems really good, and the hardware itself is Amazon being typically brilliant. The build quality looks solid and the addition of high-quality headphones - although small - will make a difference to the buyer.
For now though it's an interesting first product but one that ultimately will have some serious foundation work to do.