What happened when Rapunzel left the tower? She got married, kept growing her hair and had three daughters following in their mother's footsteps.
Okay, so there may not have been a tower, but Tere Lynn Svetlecich Russell and her daughters have a combined hair length of over four metres.
Tere Lynn, 43, has to wash her 73-inch mane while kneeling on the floor, as it drags her body to the floor when wet because of its weight. And while you might imagine such long hair to be in bad condition, the hairdresser in the video gives it a glowing review.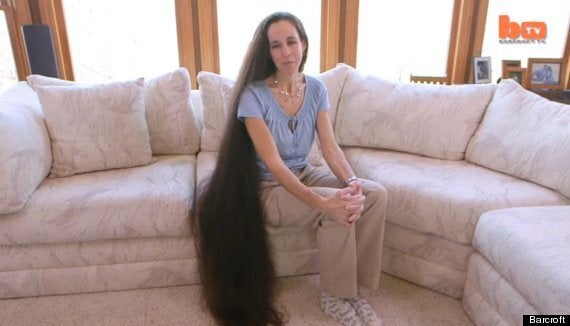 But aside from washing dilemmas, her flowing locks are winning her acclaim across Illinois, USA, where she lives with her five children and husband Chip.
She's scooped first place in a number of 'Longest Pony Tail Competitions' (we want to go!) at fetes and fairs - and now her daughters are following in her footsteps.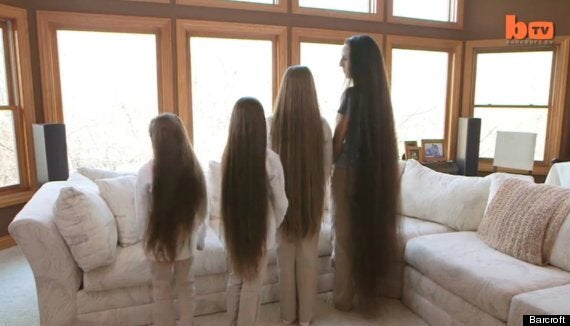 They are taking home their fair share of first-place rosettes after wiping the floor with other girls in popular ponytail contests, like The Illinois State Fair, which they attend annually.
At its longest, Tere Lynn's hair cascades over her shoulders at an incredible 74 inches. Her eldest daughter Callan, 11, sports 36 3/4 (thirty-six and three-quarter) inch locks, while Cendalyn, nine, is just behind with a straight 36-inch hairdo.
Chesney, six, is catching up with a 26 1/4 (twenty-six and one-quarter)-inch mane, while adorable Chapin, one, has the beginnings of a sprout too.
Apart from little Chapin, each of the girls use a quarter-bottle of conditioner every time they wash their hair.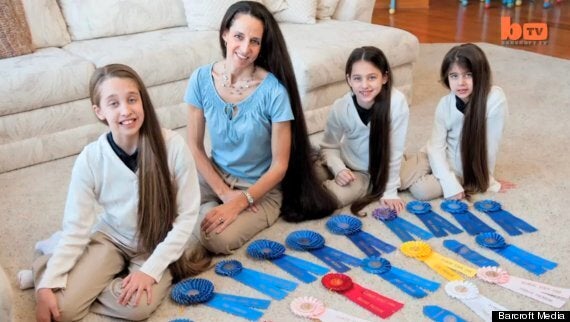 Tere Lynn - who cuts her own hair and her daughters' - said: "I tried to shampoo my hair standing up once, but it got so heavy with water it dragged me onto the shower floor. Now I can only do it kneeling over the bath.
"Having hair like this makes me cautious about doing some other things too. I accidentally slam it in car doors, it gets sucked up when I'm vacuum cleaning at home, and the kids are always standing on it.
"But I keep it because of Chip. I know he loves it. I had long hair like this when we first met and it definitely drew us together. He asked me on our first date because he loved it so much."
Dad Chip, who has short hair like son Chaz, eight, said: "When I first saw Tere Lynn, her hair was so eye-catching. It was really appealing to me. I know she keeps it for me, and I really appreciate it.
"We go through towels like you wouldn't believe. Quite often I go for a shower and all I get is a soggy towel!"