Dozens of commuters fled a busy Tube station in panic fearing a suicide bomber this morning after a passenger's laptop overheated, causing sparks and smoke to pour out of its owner's bag.
Passengers screamed and ran out of Chancery Lane station in central London while others were in tears following the security scare at 9.30am.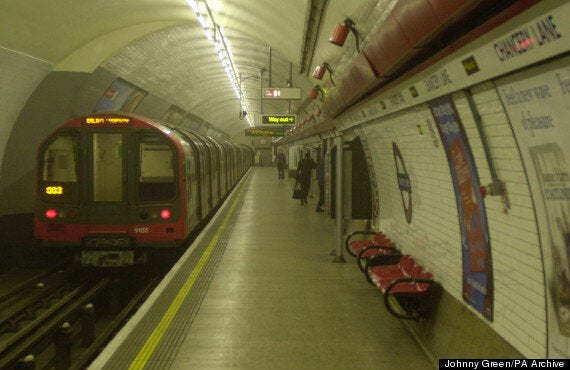 The bomb scare happened at Chancery Lane tube station this morning
Witness Jez Smith wrote on Twitter: "Tube: Smoke and sparks coming from cannister in carriage at Chancery Lane. Crying girlfriend thought she would die."
Another witness, Natasha James, wrote: "Stuck at Chancery lane, smoke everywhere something went off in a mans bag on the tube. Everyone screaming and running. Horrible experience."
Alex Townley tweeted: "Unpleasant start to the morning at Chancery Lane station this morning as everyone ran off the train screaming about smoke leaking from a bag."
Townley, a 26-year-old from Brixton, was in the same carriage as the bag. He got off at Chancery Lane, his usual stop, without noticing anything amiss.
He told The Huffington Post UK he reached the end of the platform when he suddenly heard shouting about smoke coming from the bag that could be a bomb and saw a stampede of around 60 people fleeing the train and making for the exit.
Townley, who works for Inspiring Interns as a marketing manager, said: "I heard the guy who owned the bag threw it to the other side of the platform and started running as well."
Not knowing exactly what had happened, he was "swept up" in the crowd and began running. It wasn't until they reached the station's escalators to the exit that they realised it had been a false alarm.
"You just assume the worst, don't you," he said. "I didn't know to be honest what had happened. Your first thought is to try to leave, to try not to panic."
Jodi Sharp said she heard a "massive bang" and people shouted "bomb" as smoke started coming from the backpack.
She told HuffPost UK: "I was in the carriage when there was a very loud bang, followed by a man's bag filling the carriage with smoke.
"Everyone panicked, some shouted 'bomb', and ran from the carriage on to the platform and made a b-line for the exit.
"Some people screamed, falling and pushing others out the way to get out, I was pushed over and trodden on but helped up by two guys."
When the situation calmed down, she was able to return to the train to get her bag which she had left in "sheer panic".
She added many decided not to rejoin the train, which continued on after the incident.
Passenger Kevin Laurence said the fact the owner of the bag dropped it on the platform had made "everyone assume the worst".
He tweeted: "Never seen office workers move so fast. Surprised no one was hurt in stampede to get off train."
Tim Lovejoy said: "People just ran past my carriage saying there's been an explosion. Panic ensued and mass evacuation of train and station."
A British Transport Police spokesman said the man who owned the laptop spoke to tube staff about what happened.
He said: "It looks like a battery in a passenger's device which he had in his bag has overheated, and that is what caused the sparks and smoke to come from his bag.
"He then approached staff and explained what happened. We are not treating it as a suspicious incident, and nobody was hurt."
Popular in the Community