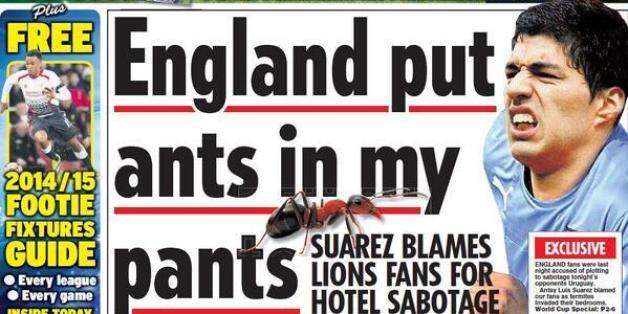 The Sun go all Alan Partridge today, urging England to "bite back", retaining their toothy theme after Wayne Rooney, Steven Gerrard and Daniel Sturridge were depicted as three lions in the Manaus jungle on the eve of Saturday's clash with Italy.
On this occasion, giving England players sharper teeth is pertinent since they are facing Luis "chewy" Suárez, who sunk his teeth into Branislav Ivanović last year.
The tabloid's back page features Gerrard and Suárez roaring like Godzilla, with the headline "Get it right or else". The Mail exclaim "It's a knockout", which is married well with the image of Sturridge's celebratory, yet daft, dance.
The Times and the Telegraph both give exposure to Spain's decline after their World Cup elimination, while the Express vow it will be "A Fight to the Finish".
And kudos to the Star. Not for the "Give 'em hell" back page, but their front page headline: "England put ants in my pants", as Suárez "blames Lions fans for hotel sabotage".