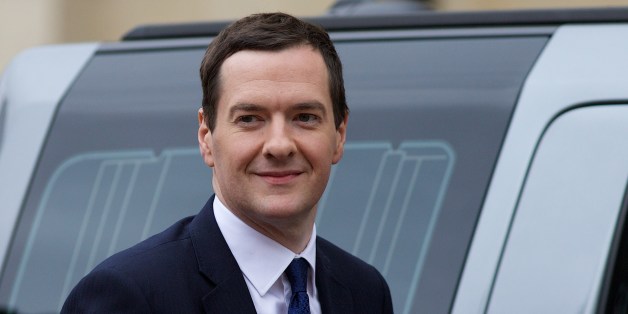 ANDREW COWIE via Getty Images
The five things you need to know on Sunday 22 June 2014...
1) CUTS, CUTS AND MORE CUTS
You think austerity is bad now? The vast majority of the coalition's cuts, as the Institute for Fiscal Studies (IFS) never tires of reminding us, have yet to be implemented; it is now agreed by all the mainstream parties that the next parliament will be The Austerity Parliament. But the Tories want to go even further and faster, according to the Sunday Telegraph:
"Hundreds of thousands of civil servants and other government employees could lose their jobs under sweeping Tory plans to cut back the state. Ministers are drawing up radical measures to be announced in George Osborne's Autumn Statement which will involve widespread privatisations, resulting in at least one million public sector workers being removed from the government payroll by the end of the decade. The Treasury has ordered the Cabinet Office to draw up plans for an 'ambitious' programme of efficiency savings stretching into the next parliament after the 2015 election."
So anti-austerity campaigners can't afford to relax. From the Huffington Post UK:
"Russell Brand has called on thousands of protesters to be part of a 'peaceful, effortless, joyful revolution' that seizes power back from Westminster... Speaking in the shadow of the Houses of Parliament at the end of a march marking the one-year anniversary of the People's Assembly being formed, Brand stripped off his T-shirt and replaced it with one carrying the message 'Firefighters rescue people not bankers'... An estimated 50,000 people took part in the march, which started at the BBC in Portland Place where protesters accused the broadcaster of ignoring the plight of impoverished Britons."
2) MILI'S MATES COME OUT TO PLAY
Ed Miliband has had an awful week in terms of media coverage, with Labour grandees such as Alan Johnson taking potshots at him, anonymous frontbenchers criticising his leadership style in the Guardian and a bunch of opinion polls suggesting the public don't see him as a prime-minister-in-waiting and would have preferred his brother David.
The Sunday papers are full of 'Ed in crisis' stories that we've become so used to over the past four years. "Labour tears itself apart over the 'Ed problem', so can he unite his team?" is the headline to Toby Helm's feature in the Observer. "Blunkett warns of '15 years in the wilderness'," is the headline in the Independent on Sunday. The Sun on Sunday, perhaps taking revenge for Miliband's apology over his picture with the Sun 'World Cup' special edition, goes with a mocking "Inside Red Ed's 'Ead" feature, which opens with: "Sadly, a quick look inside his bonce reveals he can't work it out either — because he's too busy trying not to offend anyone. He's sorry for knifing his brother David, sorry for Labour's reckless spending in office, sorry for an endless string of gaffes and sorry for his inability to eat a bacon sarnie properly. And it's probably left him feeling a bit sorry for himself."
In the past, the Labour leader has been criticised for not having enough allies and outriders and mates to come out and bat for him in the Sunday papers and on the Sunday political programmes. Not today. Neil Kinnock, the former Labour leader, tells the Observer that Ed's problems are the result of media "vindictiveness": "A hostile press which thought he was a soft target have not forgiven him for proving them wrong – and the vindictiveness will continue. It won't stop him; his genuine strengths of thought, action and toughness will get through and help to win victory."
On the Andrew Marr show on BBC1, shadow business secretary Chuka Umunna, who was an early Ed Miliband supporter in 2010, was forceful in his defence of his boss: "We're not playing Celebrity Big Brother," Umunna told Marr, rejecting the 'personality' critique of Miliband, and adding: "If Ed is guilty of focusing on the issues that people really care about and taking a serious long hard look at what is happening in our economy.. then fine, that is what he's focused on."
He dismissed the attacks on Miliband as "Westminster soap opera" and "parlour chat", saying "polls go up and down" and Labour is bent on building a "big tent".
"This is a serious possibiluty, a Labour government next year. Is it in the bag? No, it's not in the bag."
You've got that right, Chuka...
3) HAWKS VS DOVES
Looking at the headlines in the Sunday papers, it feels almost as if we've gone back in time. It seems, for example, that the cabinet is split on whether to take military action in Iraq, according to the Sunday Times:
"Senior ministers are at odds over whether to back US airstrikes against the militant group Isis amid disagreements about the extent to which British national interests are under threat. Hawks say Britain will have to allow American warplanes to use bases in Britain to launch attacks and believe the UK has vital interests at stake. But doves, led by the minister without portfolio Ken Clarke, are warning that it would be folly to get involved in military support... Cabinet sources say the defence secretary Philip Hammond told the cabinet Britain should keep open the option of backing US airstrikes... The chancellor George Osborne warned the cabinet that Britain's interests are at stake because the conflict could wreck the economic recovery by driving up oil prices... Their position is supported by Michael Gove, the education secretary, and Sajid Javid, the culture secretary. Clarke told both meetings that the UK should not get involved and warned that Iraq risks 'Balkanisation'. He is backed, in Tory ranks, by the Foreign Office minister Baroness Warsi and Andrew Lansley, the leader of the Commons, as well as by Liberal Democrat ministers."
If only Clarke had won the Tory leadership in 2001, rather than Iain Duncan Smith, the Tories might have opposed the catastrophic Iraq invasion in 2003 and Tony Blair would then not have been able to win his vote in parliament on the eve of war.
Meanwhile, the papers are full of stories about the threat posed by young British 'jihadists' returning from Syria (and, by extension, Iraq). "Schoolboy to jihadist," is the Mail on Sunday's splash headline. "The brilliant brothers who left British suburb for jihad," says the Sunday Telegraph front page headline. The Independent on Sunday's splash ('300 fighters from Syria now back in the UK') on the same subject quotes former MI6 counter-terrorism chief Richard Barrett saying that the Syrian war "is likely to be an incubator for a new generation of terrorists" and pointing out how more foreign fighters have joined the 'jihad' in Syria than joined the 'jihad' in Afghanistan in the 1980s. And we know what the consequence of the latter was...
BECAUSE YOU'VE READ THIS FAR...
Watch the video of Lionel Messi's stunning 91st-minute winner for Argentina against Iran yesterday.
4) 'THE DRUNK WHO HAS COGNAC FOR BREAKFAST'
From the Mail on Sunday:
"David Cameron is to force a showdown with German leader Angela Merkel this week after claims that the man set to become the EU's most powerful politician is a 'drunk who has cognac for breakfast'. He is to use a summit at Ypres to commemorate the 100th anniversary of the First World War to try to stop Mrs Merkel's ally, Jean-Claude Juncker, becoming President of the EU Commission... Senior Tory MPs backed their leader yesterday after a Mail on Sunday investigation uncovered fresh reports about Mr Juncker's drinking: - A senior diplomatic source told this newspaper: 'Mr Juncker reportedly has cognac for breakfast'. - He was allegedly 'blind drunk', acted in a 'vulgar' way and repeatedly used the f-word in a meeting. A respected German news journal claimed he had 'drunk too much for years' in an article headlined Achtung, Alkoholkontrolle! (Caution - Breathalyser Checks!)."
Junkcer denies these 'boozing' claims. Meanwhile, the Sunday Times splashes on a new front in the eurosceptics' war:
"David Cameron came under attack on two fronts last night over his plans to renegotiate Britain's relationship with Brussels ahead of a European summit at which he faces a humiliating defeat this week. In a letter to The Sunday Times, 54 of Britain's leading businessmen turned on the prime minister, warning that they were 'extremely concerned' by the government's failure to protect the UK from European Union plans to tax the City and impose new red tape. The company bosses — who include several Tory donors and two former ministers — demanded that Cameron put protection for the City at the heart of his renegotiation strategy."
5) 'DARLING, I'll DEBATE YOU'
Alex Salmond has given up on his dream of debating David Cameron and has now agreed to debate the Better Together boss and former Labour chancellor Alistair Darling, reports the Sunday Herald:
"Deputy First Minister Nicola Sturgeon told the Sunday Herald yesterday it was now '"game on" in the contest over Scotland's future'. She said: 'David Cameron should accept the offer of a head-to-head debate with the First Minister, which is the one that all of Scotland wants to see. Should the Prime Minister continue to duck this debate, the First Minister is willing to take on Alistair Darling as the Tories' nominated substitute. But David Cameron should know that once that contest has happened and the First Minister has effectively removed Mr Darling as his human shield, we will be knocking on Downing Street's door urging him to face up to his democratic responsibilities and finally accept a head-to-head debate.'"
Darling is 'the Tories' nominated substitute' and 'human shield', eh? Ouch.
QUOTE UNQUOTE
"Welfare tourism is the figment of some politicians' imagination." - Polish foreign minister and David Cameron ally Radek Sikorski, speaking on the Andrew Marr show.
PUBLIC OPINION WATCH
From the Sunday Times/YouGov poll:
Labour 38
Conservatives 32
Ukip 14
Lib Dems 8
That would give Labour a majority of 76.
From the Observer/Opinium poll:
Labour 35
Conservatives 31
Ukip 17
Lib Dems 7
That would give Labour a majority of 42.
900 WORDS OR MORE
Matthew D'Ancona, writing in the Sunday Telegraph, says: "Miliband may have brains, but does he speak human?"
Andrew Rawnsley, writing in the Observer, says: "Ten crucial months remain for Ed Miliband to pass the blink test."
Niall Ferguson, writing in the Sunday Times, asks: "What would the Iron Lady do?"
Got something you want to share? Please send any stories/tips/quotes/pix/plugs/gossip to Mehdi Hasan (mehdi.hasan@huffingtonpost.com), Ned Simons (ned.simons@huffingtonpost.com) or Asa Bennett (asa.bennett@huffingtonpost.com). You can also follow us on Twitter: @mehdirhasan, @nedsimons, @asabenn and @huffpostukpol