30 years after he used to turn up to work on a speed boat, Don Johnson can still create a buzz when he enters the room – in today's case a London hotel bar, where he stops and shakes many a hand before sitting down with me, evidently loving the city, loving the sunshine.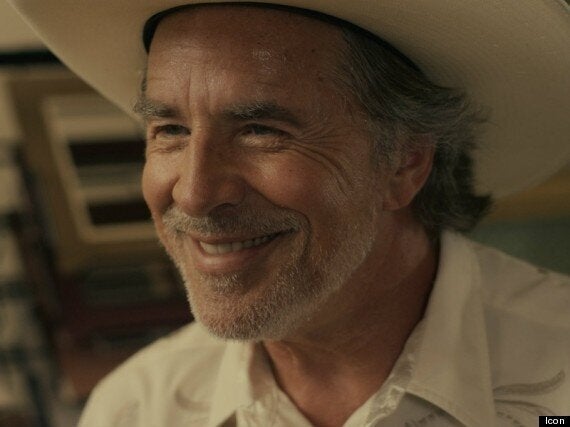 Don Johnson in dark caper thriller 'Cold in July'
Loving having a film to talk about that's garnered good reviews both generally and for him personally – dark thriller-caper 'Cold in July', which sees him scene-stealing with cowboy hat and bon mots, even alongside Michael C Hall and Sam Shepard.
"Some years ago I became more aware of how lucky we are to be gifted with this. The light bulb goes on, and you go 'oh.' It's nice to still be in the conversation."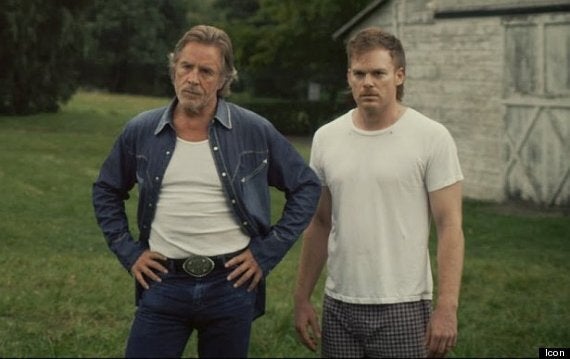 Don Johnson co-stars in 'Cold in July' with Michael C Hall
Even without his distinctly West Coast-ey description, the facts speak for themselves. With 'Miami Vice', Don became officially the world's best-looking man in rolled-up sleeves, starring in the world's most slick detective show, with a era-defining soundtrack.
Don enjoyed the kind of success and adulation that only a few people will ever taste – including one surreal moment he tells me about, still with a glint in his eye, when he was filming a scene in New York and suddenly the air was full of "a million pairs of undergarments, all thrown by women from office blocks" – and he's smart enough to know his head was firmly turned.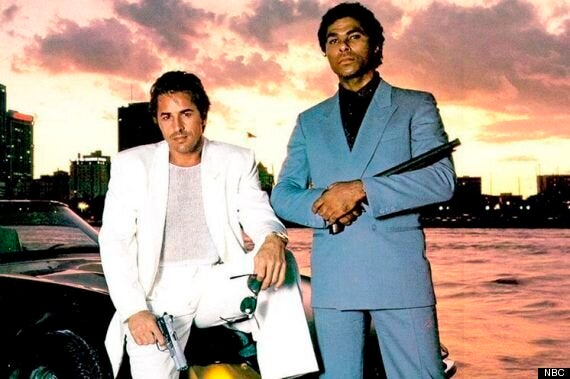 Don Johnson at the height of Vice fame, alongside co-star Philip Michael Thomas
"I was in my mid-30s, not really young, but still immature," he admits now.
"It was a part of the collective psyche at the time in the 80s – bigger, flashier, more – and everyone was sort of drunk with style and fashion."
Ah good, he's mentioned it first, the suits - courtesy of Versace, Armani and co – that brought Italian tailoring, normally with a T-shirt underneath and in a variety of 'approved' pastel shades, into American culture, along with the equally Italian Ferraris that had Don Johnson at the wheel.
But, yes, it is time to start tuning up the world's smallest violin, because it turns out People's Sexiest, Scrummiest, Smuggiest wasn't always the Happiest.
"I think you do lose yourself," he explains. "At a certain point, you look around and you think, 'I have all of this stuff that supposedly happiness is made of – why am I not happy?'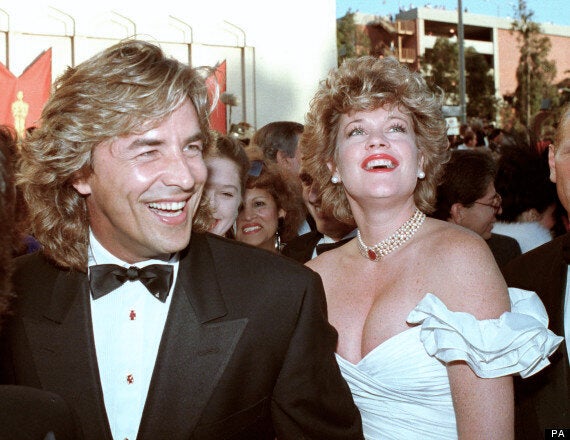 Don Johnson and Melanie Griffith - married twice - at the height of their 80s combined star-power
"That begins the process of going, 'What in my life serves me and what doesn't serve me?' and I started eliminating the things that didn't serve me. Some of them were, like, wives…" he grins.
Nobody at this point mentions Melanie Griffith, the woman he married twice, and with whom he has daughter Dakota, about to become a household name herself as the defrocked ingénue in '50 Shades of Grey'.
He continues... "Some were belief systems, ego-based, ambition-based…" Clothes, I wonder? "Clothes, yes, a lot of just stuff. And once I started doing it, the better I liked it. So now I keep it simple. Which is, of course, a relative term."
With his long career and Old Hollywood connections (Tippi Hedren was twice his mother-in-law), Don describes it as more of a club than a system these days…
"It's more of a speak-easy," he explains.
"We all know who's in it, and who isn't. It can be interchangeable from one week to the next, depending on how well your movie did.
A big, philosophical chuckle comes, before he adds, "Believe me, I've been in and out of the club a lot.
"These days, I'm into the pure joy of the work. I'm past the ambitious and ego stage. That's normal for any business, and it's just a little more obvious and unattractive in our business."
'Cold in July' is in UK cinemas from this Friday 27 June. Watch the clips above and below...
Related